When I was in Africa, I looked for a ferry ticket from Egypt to Turkey, but there was no more ferry on this route. It was December that I decided to go to a bit warm place, Spain. But a flight ticket was almost $400 to Spain. Then I found cheap way that I bought a fly ticket which would stop at Saudi Arabia. For me it was better because I love taking airplane. Above all, I could have two 23kg luggage (50 lb) for free.
Unfortunately the taxi which I took with my bicycle had flat tire on the way to the airport in Cairo, Egypt. A driver told me he could fix it that I waited for a while. But then he failed and I had to take other taxi. Fortunately I left very early to come to the airport just in case, so I was not late. But then when I tried to get my fly ticket at the airport, they didn't give it. They told me I needed the return ticket from Spain. Then I talked and begged that Korean don't need return ticket. Finally I got the flight ticket on time. My traveling was always chaos.
The plane departed on 30th of December, but it landed on 31st of Dec.
I shouted for happy when I arrived in Europe. It was for sure at that time that I succeeded in cycling in Africa. What succeed meant on the trip? Get out of their land with being alive.
It was very difficult to find the host in Madrid at New Year. I tried to find a host through warmshowers.org, which was hosting website for only people traveling with a bicycle. One member, Pablo, invited me that I had good time at New Year. I felt good from the beginning of Europe tour.
It was just gorgeous to cycle in Europe.
Cars didn't honk the horn at me!!!!! People never shouted and screamed out at me!!!!!!!!!!!WOW!!!!!! WOW!!!!!!!!! Even cars waited me until I passed. Finally everything was normal, which I missed the most.
I had cycled in Americas and Africa without a cellular and GPS. But one of followers sent me secondhand iPhone4 which had very good condition. I could not imagine how I could cycle without GPS function on the phone in Europe. The road in Europe was so complicated ever that there were too many roads.
Spanish loved pork so much. Many houses had huge jerked meat of pig's leg at their kitchen.
The bar of the world should learn one thing from Spain. If someone orders beer at the bar in Spain, the bar gave small food for free. Even I saw that they served food when I ordered coca cola at the bar. (It was called tapas at the first right on the picture.) In Korea, it is not common to drink alcohol without food that Spain was perfect for me.
One of things I liked in Spain was Shangria, which consists of red wine, chopped fruit, a sweetener, and a small amount of added brandy. (At the first left on the picture). It is very sweet and has good flavor that it is popular to girls.
The second line on the picture was called paella[pɑːˈeɪlə], which was my favorite.
One time I was invited at the restaurant and had chance to have snails. The sauce had so good tasty.
I really liked Spanish food and their culture was very interesting to me.
Sagrada familia in Barcelona was just fantastic that I had ever seen for seeing architecture. I had never seen the picture or video of the inside of Sagrada familia that it was big surprising for me. When I looked it from outside, actually it looked like a ghost house. But the inside was a truly magnificent.
When I was in Africa, I was keeping in touch with one Spanish guy. He told me that he would like to invite me when I get to Spain. Finally I had a chance to meet him. I had stayed at his house a bit longer because I had to update my blog. It was really sad when I had to leave their family.
While traveling Europe, one of good things was I could meet the people I kept in touch on online. It was the advantage after writing English which had been hard working for me.
It was kind of shocking after crossing French border because the pavement of the road in France was very bad. I thought France was one of the richest countries in the world. But then why the road was too rough and why there were full of garbage on the road??? I felt like I came back to Africa a bit. I had never been Europe that I didn't know how Europe would look like. After traveling for a while in Europe, I realized that Europe was not that much different world.
I found one funny thing in a big grocery market that they put wine as like snack.
France had different culture of the way of having food. They had salad first, then main meal, then yogurt and cheese. While I stayed at local people's house, I had chances to have many different kinds of cheese.
I went to the radio show on a small village. We spoke in English and it was very funny that I laughed a lot while talking to her. Although I could not listen to the show later, it was a good experience.
One of impressive attractions I had ever been in Europe was Carcassonne castle. It was located at South East in France. It looked totally like a scene in a fairy tale story. I felt like I took the time machine and walked on medieval time.
Another impressive place was Cite de l'espace in Toulouse, which was a theme park focused on space and the conquest of space. As the person having a dream to go to the space, I really enjoyed.
The village and city looked cute in South East France. There was really unexpected thing in France. People were very friendly like American. When I had eye contact with the people while cycling or walking, usually French greeted at me "Bonjour". In Korea, we don't greet with a stranger like this. So when I came to Canada, I enjoyed so much greeting "Hello" with strangers on the street.  Therefore, I was really happy to have this experience again with French.
When I had meal on the road at the next to my bicycle, people passing me greeted "Bon appétit(Enjoy your meal)" Oh.. people were so sweet in France that I really liked it.
Also I could find people speaking English time to time that I didn't feel much language barriers. Some of people I had met felt shy when they could not speak English. So, actually some people didn't insist on only speaking French.
I was really worried about spending money in Europe. I thought everything would be so expensive that it would be difficult for me to travel. Then actually it was much better than any other places because I could find a big grocery like Walmart everywhere and there were always cheap things as well. I ate much better food than in Africa with only low budget. Always my bag was full with the food in Europe. To travel in Europe was sometimes like a picnic that I took all food out from the bag and ate with beautiful scenery.
I found one interesting that people's salary was not that high in France. Of course it varies because there are many different kinds of jobs. But I usually focused on just a regular job and I found some people had only $1,400~$1,600 (1200 Euros~ 1400 Euros) for monthly wage. I thought everybody made at least 2000 Euros($2,300).
https://en.wikipedia.org/wiki/List_of_European_countries_by_average_wage
I usually stayed with local people and I loved to talk to them that I had chances to hear about real salary sometimes. Usually it is always much lower than that kind of statistics. For example, Macedonian normal salary is $230 (200 Euros) per month, not like $400 (354 Euros) on wiki.
Italy was known for passionate people. So, I expected that people would be very kind. But unlike my expectation, people were cold to me in the northern Italy. I didn't have much problem to get permission to pitch my tent at people's yard in Spain and France and sometimes I was invited at the inside of the house after asking. But it was extremely difficult to find the place to stay for a night in the northern Italy. I felt like I came back to Brazil, because I had similar experience there.
One night, I was denied many times and one local people brought me her farm which was empty and there was nobody around because it was end of the road. I was scared to sleep there. I did kinda wild camping finally in Europe.
Some local people told me the people in the northern Italy don't open mind easily at the first to a stranger. I was wondering if I cycled in the southern Italy, what kind of experience I would have.
One of interesting things in Italy was that there were many people cycling with a expensive bicycle and professional clothes. Specially they were very colorful from shoes to helmet.
Another interesting thing was there were so many small cars. Actually I saw also many small cars in France often.
I had never seen this kind of thing on the road. At the out of Milano, there were so many prostitutions standing or sitting just next to the road. I saw only girl like this between Spanish and French border. But around Milano, there were a lot.
In Italy, prostitution itself is legal, but the law prohibits organized prostitution (brothels, prostitution rings or similar commercial enterprises and other forms of pimping). In 2008 the Government approved a law proposal by one of its ministry to forbid street prostitution but the proposal has never been converted into law so street prostitution is still legal in Italy and is very common. Italy is listed by the UNODC as a top destination for victims of human trafficking.
When I arrived in Milano, I was little bit disappointed because there were few attractions. But Milano was special place because I had met friend whom I met in Africa. He had holiday house in other city that he let me stay there alone for a week, which I enjoyed so much. Also I made a good friend who was from the U.S as well in Milano.
I went to Leaning Tower of Pisa to stop leaning with my hands like other people. I paid 18 Euros to go to the top of tower that it was not bad because I was really curious.
I could stay only three months in 26 countries in Europe, Schengen area that I didn't have much time at the last. But I didn't want to miss Florence that I decided to cycle harder after visiting Florence which was located a bit southern than Milano. I only stayed three days in Florence and I spent the time to fix my bicycle at the one of days. So, I didn't have much time to look around. That was the reason maybe I felt in love with Florence. If time is limited, then everything could be so precious. When I left the city, I wished I could visit Florence again.
I visited also one of the most famous attractions in the world, Venice. It was impossible to find a place to stay near Venice that I stayed far from Venice. When I toured Venice, I took the train. I looked around Venice with Florent, French cyclist whom I met in Milano and Austrian cyclist girl who stayed at the same hostel as Florent. I really liked Venice that it was really beautiful and romantic place.
I had cycled for four days with Florent. He had lots of luggage that his speed was same as me. So, it was no problem to cycle together.
I saw many people looking for some plant. I asked local people. They told me it was called Sparoga and it was edible. In English, it is Asparagus. But totally it had different flavor that I really liked it so much. The best part was I could eat as soon as picking. It was said it would be the best with the egg.
I only stayed for a night in Slovenia, but I remembered Slovenia as a very peaceful and quiet country.
Thanks to local people, we could get information of skocjan Caves, which was entered on UNESCO's list of natural and cultural world heritage sites in 1986. It was forbidden to take the picture at the inside of the cave. So, the above picture is from the official website. It was not that much amazing as the picture. But it was good experience for me, because I had never visited the cave during the trip. After Croatia, I had different plan that I separated with Florent.
Since Croatia, I decided to become a vegan! I tried not to eat even egg, milk and honey. There were many kinds of plant that it was no problem to cook and eat. I also tried to eat bean often although I didn't like it.
I had another challenging, running. I never run before that it was too difficult to run for 1 km (0.62 mi) without resting. After month, I could run over 10 km (6.2 mi). My speed was only 9'10″/km at the first and after a month it was 7'30″/km. Actually I was not good at running.
When I traveled with my bicycle, it was no problem at all as a vegan. Only one difficult thing was when I was invited at somebody's house. Usually most of them wanted to feed me and when I said I could not eat meat, and then they were disappointed. Also there was nothing to order at the restaurant.
There was no such reason to become a vegan. I had just seen many vegetarians in Europe that I was curious about them. Then one day I decided to start a vegan. One of good things after becoming vegan was I didn't feel guilty anymore at domestic animals. I always thought that if my life is important, then other animal's life is important. Finally I could follow my philosophy. Incredible thing was I lost 4 kg (8.8 pounds) which I got in Canada and I didn't lose while cycling in Americas and Africa. I ate lot as usual, but funny thing was I lost weight. What a good advantage!
There was one exception that I ate meat if there was typical local food. But these days people ate similar thing all over the world that I stayed as the vegan most of times.
Croatian sea was really pretty. But it was really hilly.
Since I entered into inland, I could see something I had never seen near sea side. In Balkans, except Albania Greece, Romania, and Bulgaria, there were seven countries, Slovenia, Croatia, Bosnia, Macedonia, Montenegro, Serbia, and Kosovo staying together in 20 century as Yugoslavia. Under a communist government, Tito, a dictator, governed Yugoslavia for a long time. After he died, Yugoslavia was started separating like before and many of them become independent at the end of 20 century. While being independent, they had a big war from 1991 to 1995. So, the thing I saw in inland was the trace of the war. There were lots of wars in the history. But it was my first to see the trace of the war on the road often.
There was another thing I could not feel around touristic area in Croatia. Since I got out of the sea, I could see people were staying with little money. It was said the salary of normal people in the city was around 400~500 Euros. The price was not cheap that I was wondering how people could survive. The local people told me they paid lots of tax and got free education and health care.
The reason I cycled to inland was to visit Plitvice Lakes National Park which contains a series of beautiful lakes, caves and waterfalls. These have been formed by processes typical of karst landscapes such as the deposition of travertine barriers, creating natural dams.
I've been some national parks, and every park had different face. Plitvice was one of the best parks in the trip because I had felt that I lived with the nature.
I bought many things which were only for vegan. I never cooked during cycling, but I felt I had enough time to cook at that time. When I did camping, I usually only cooked a noodle. But this time I cut onions and garlic. Wow… fantastic experience. To listen to the sound of frying vegetable on oil and water flowing through a creek were gorgeous. The place I found was so good that I could feel the nature during cooking. Actually to cook took two and half hours. I never ever cooked again during cycling at the next time.
I had met Korean cyclist on my trip finally. I was keeping in touch with him on Korean chatting app. (http://captkwon.tistory.com/) When we crossed each other, we could met. We cycled for two days together. He was very thoughtful that he cycled with the same speed as me although he was very sporty guy and he could cycle much faster. In the night, we cooked some Korean food together with beer that it was good.
He was going to the opposite way that at the next day we separated. After I crossed Bosnian border, I was nervous and afraid because there were the trace of war everywhere. Although the war happened 20 years ago, GDP of Bosnia was low that they didn't have enough money to recover all. So still there were many warning plates of mines everywhere. There were ghost villages as well. Just before the sunset, I found one small village and went there. Then I realized nobody lived there and I felt horrified and run away. Also there were many bomb craters just at the next main road.
Hollywood movie or video game glamorizes war. People who like those kind things should visit this area and see how the war can drive human life horribly bad.
Although I had some scary memory of Bosnia, there was one fact that Bosnia was very beautiful country. There were mountains, which were just fantastic gorgeous. Although it was difficult to cycle on hills, the landscape was so amazing. I started to like to cycle in mountains since I came to Balkans. Stunning scenery was big compensation after hard cycling in the mountain.
I had to hold my break suddenly after reaching to the top of mountain. There was unbelievable view of the lake which I had never seen. It was my first time to think like "I want to buy holiday house here!" After I went to a village, I saw there were no tourists. I thought to buy house here would not much expensive compared to other place. But the thing was I didn't remember where it was. I should leave this beautiful place only in my memory, which could be better maybe.
Dubrovnik was one of the most prominent tourist destinations in the Mediterranean. I failed to find the place to sleep that I had only day trip. But actually it was enough because there were not other things to do except visiting the castle.
The castle of Dubrovnik was just like French's fortified city of Carcassonne. There was a big wall and at the inside there were many buildings. There was one big difference. At the inside of Carcassone, most of them were shops. But here the most of them were residence. Actually in my memory Carcassone was more beautiful and quieter.
I was not scared about cycling in mountains anymore since Balkans. So I made the route which would pass high mountains in Montenegro, the next country. After very hard uphill, I felt very good at the top of mountains. Kotor bay was wonderful place.
Countries in Balkans were very small that I changed the country quickly. The next country was Albania, but I had hard time in Albania as like I was in Africa. It was not easy place to cycle as solo female because guys on the street shouted and flirted at me.
When I talked to other cyclists, I realized that I was the only one who had hard time. The difference was they were couple, man, or men and I was a solo girl. The treating could be way different in those countries. I prefer less friendly and less flirting than too much friendlier and too much flirting.
A spoke was broken that I went a mechanic which a staff of the hostel introduced me. He told me with smiling "I can fix it. No problem." Then I saw he didn't have proper tool and even he broke more spokes while trying to open cassette with other tool. I lost word when I saw spokes was broken one by one. Fortunately after a few hours he called old guy and old guy knew how to fix it. The tuning was not good, but at least I had normal spokes.
It was very itching that I thought I was bitten by fleas. I was not sure where I was bitten. I guessed it could be from the hostel or his chair which mechanic offered.
I had really hard time in Africa because I was bitten by fleas and bedbugs often that my body was itching all the time. At the end of trip in Albania, I felt like I was really in Africa. Whole my body was seriously itching.
When I got to Macedonia, the next country, I felt relax. I came to the normal life again that nobody shouted at me or flirted on the street.
I really liked former Yugoslavia countries that people were very generous. Per capita income was low in this area that I could spend less money. Actually when I thought about cheap countries, Yugoslavia was the only place that I could see friendly people without having flirting on the street.
On the picture, it was Ohriad Lake which was very popular. But it didn't look special to me.
But then Lake Ohrid was turned to very special place to me later. Around the sunset passing the old town, local people on a restaurant invited me for drink and they let me sleep at their camping places near the lake. It was raining all night, but I set up tent under some open empty bar building that it was very peaceful. At the next day when I opened my tent, I could see beautiful lake. Sometimes nothing special place could be turned to very special place with the small memory.
Before getting out of Macedonia, I found very peaceful place. I wanted to camp there, then I thought I had to cycle more. But actually main reason I didn't sleep there was I was too scared to camp alone. Before coming to Europe, I thought I would do wild camping a lot. But it was not like that. Coward traveler was coward at everywhere.
I didn't have such a memory in Bulgaria because I didn't cycle longer there. The only memory about Bulgaria was drinking Rakia with local people and peaceful square in Sofia.
While cycling in Serbia, the next country, I saw beautiful road. To cycle in this kind of pretty scenery made me sure why I cycled the world.
While staying in Niš for a few days, local people recommended me to visit Skull Tower. The name sounded very weird that I thought it was some kind of hippie art. I thought the tower was at the outside, but actually it was kind of museum at the inside of the building.
Serbia was conquered by Ottoman Empire in 15 century. In 19 century there was uprising, but Serbia was defeated. Ottoman cut people's head and made tower to celebrate their winning. So Skull Tower meant that the top was made by real skull.
Outside was really hot because of too hot summer, but it was weird that at the inside of building I felt very chilly.
After Serbia, I thought I would go to northern Europe to see Northern Lights through Central Europe which I had not been yet. Then I changed the plan that I would go back to the western Europe because I was seeing someone at that time and he wanted to have a bicycle trip to Portugal for his vacation. So I decided to follow him for five weeks. I already passed this route that I was just happy to be with him.
I had to hurry to start traveling together. So I hitchhiked once I entered to Croatia, but it was extremely difficult that I waited hours and hours. Later I met the guy who drove crazy but he was kind. Later he drove while drowsy and hit the telephone pole. I felt pity at him that I gave him 50 Euros which he didn't ask. Actually I could take the train with this money. Never knows what would happen in the life.
I was really happy that I could cycle with someone more than one month and even he was very special guy to me. We crossed mountains, oceans, and semi desert. When I had problem with my bicycle, he always fixed it for me. Spokes which I changed in Albania was broken again and he changed all spokes with his hand. Sometimes it was difficult to cycle a long distance, but I was happy to be together. Over five weeks, we cycled more than 3,000 km (1,864 miles) that I was proud of which we made it.
We had promise to see each other after a few months later. But then we could not keep our promise, because we broke up. I thought it was better for both of us. I thought I would not contact to him anymore, but actually we kept in touch for a while.
I thought if it's meant to be, we would meet again. But I thought we would not.
I hitchhiked in Europe rarely, but at this time I wanted hurry to the north to see Aurora before coming winter. I tried to do hitchhiking from Portugal to Paris. However, it was so difficult that I waited for four to five hours usually and sometimes I could not get out of city for a day. It was much better to cycle than to hitchhike, but I didn't have enough time and I was tired to keep cycling coming and going. I crossed Canada by hitchhiking from the west to the east with backpack for three to four months that I had experience. Also I did it when I had problem with my bicycle in Americas sometimes. But this time it was too hard to get a ride easily.
I had very difficult time and after seven days I got to Paris. It was only 2,000 km (1,250 mi) that I thought 4 days would be enough. But then actually I arrived after seven days.
I really liked Paris maybe because I had hard time to get here. I thought I would be not impressed by Eiffel Tower because I saw it on the picture too much. But seeing with my yes, I was so touched. It was beautiful and taller than my expectation. Sometimes it is good if I don't expect. Then I can be impressed easily.
I visited Palace of Versailles, the famous attraction. It was out of city that I had to take the train. There were many rooms. Once I paid, I could get Audio guide in Korean for free. Audio guide was very helpful to understand Versailles. But Audio guide didn't talk about sacrifice of citizen, but only talked about how beautiful it was. It was funny that Royal family, the center of corruption, did enjoy the life after squeezing people, and nowadays the place they stayed became proud, money and fame of the city.
One of the most important destinations in Paris was Louvre Museum. It was so huge that one day was not enough to look around. Even I kept getting lost because the inside of the building was very complicating. The floor and section were divided by ages and countries. There were many relics which they stole before from all over the world. However, it was interesting to see. I liked to see also sculptures and paintings. There were warning sign "Be careful pickpocket" around Mona Lisa. It was so crowded around Mona Lisa that I felt like I was at the center of the bar. To see Mona Lisa was very funny experience. By the way, the painting was smaller than my expectation.
After leaving Paris, finally I did first wild camping alone. For many months, I had only thought 'come on, I am in Europe. It is a chance that I should do wild camping, which I cannot do usually in other continents with too much fear
I didn't know where I got brave to do it. I found a small road at the forest which was next to the main road. Then I went there, hid, and set up my tent.
Yeah Belgium!
I heard the most famous attraction in Brussels, the capital of Belgium, was a stature in the center. But it was really hard to find. The reason was it was too small. It was said that it is one of the most disappointing attractions in Europe.
Belgium was famous for Beer, Chocolate, and waffles. It was more price if there were a few things on the top of waffle. So I had simple one which actually local people had usually.
There was small arguing on my facebook page when I said "It is time to try the best beer in the world." because some people from Germany and Czech Republic said the beer from Belgium is not the best one.
When I went to a bar to try beer, a server gave me a book which had almost 300 pages with only beers. I read until 10 pages and then gave up. I just asked him "please can you recommend me one beer?". It was the best beer I had ever had in my life maybe because I was just excited. Later local people who saw the picture of beer told me he had never seen this beer's brand.
While drinking beer at the square, I found interesting thing that many people wearing casual clothes rode casual bicycles.
I got to the Netherlands which was famous for Tulip and legalize a homosexual marriage, marijuana, and prostitution. Once entering, I could see that the garden of residents was well maintained like Museum's garden.
I felt like I came to the other planet because many bicycle paths were totally separated from the car's road. It was the only country in the world that bicycles had always their own lane. However I found funny thing that none of people wore helmet. I heard only tourist like me wore helmet in Holland.
There are more bicycles than residents that parking for the bicycle was huge everywhere. Everywhere there were bicycles.
I had met one bicycle dealer in Italy by chance and he invited me at his family house for a night. He gave me moving saddle as a gift which cost actually around $140. (The saddle can be moved little to the left and right during paddling. It was helpful on the uphill because I could push paddle with more power when hips were moving together with saddle. But I had so much luggage that it was difficult to park because when I hold the saddle while parking, it was moved. The friend I had met in Belgium gave me second hand saddle which it was not fit for him. He told me he bought very cheaply on a bicycle shop long time ago and just kept it. Finally I went back to the normal saddle.
But actually I preferred the saddle without nose because only my hips touched while sitting that it was more comfortable. If I have a chance to buy a new saddle for the future during the trip, I would like to try the saddle without nose. I saw that there were some saddles without nose.
Most of bicycle paths were like the picture that it was totally separated by the main road. Two times I made mistake that I cycled on the main road for a minute because I could not find the bicycle path at the first day in the night. Then every car on the road honked horn for a long time until they disappeared from my view and some people shouted at me through window. It was funny that they looked very kind when I followed their rule. But once I was against it by mistake, they were hell angry. It was funny that the angriest drivers at me were the kindest driver on the trip.
Since Germany, I could see the house with the way of Timber framing (Fachwerk). I expected perfect world when I thought about Germany, but then I realized it was similar to other country that it was just human's world. There were garbage on the road and people crossed on the red lights.
When I traveled in Croatia, I met German cyclist. I kept in touch with him and he invited me when I passed his city. I stayed for week and prepared winter cycling.
He gave me his old tent because he was about to buy a new tent. My old tent was only $70 and I used from the beginning of the trip. It was for three seasons and easy to set up. But it was not good at raining and cold weather. I thought his tend would be helpful for the cold.
I paid $52 for sleeping bag in the U.S, but it was too heavy, big, and not warm enough. So I bought a new one which was smaller, warmer, and lighter. I got more weight from the tent, but I got less weight from the new sleeping bag. So at the end it was same. (At the second picture from the left, Old ten, new ten, old sleeping bag, and new sleeping bag)
I carried too much gears about a camera that I bought a new camera which could take the video. The lens had a wide angle and telephoto as well. I sold old lens with cheap price at Korean community in Germany and I gave a camera body as a kinda gift because it was too old.
I usually didn't cook while camping, but since I got a proper stove from Spanish friend, I started cooking. But to find a gas with the way of screw was not easy in Eastern Europe. So I decided to buy a new stove because I could find fuel easily on a gas station every where.
So at that time I spent around $2,500 to buy things. It was the biggest expenditure since I was on the road. But I concerned more how I could survive from the winter.
Although I didn't stay longer in Germany, I could had a chance to do kayaking thank to a kind local friend.
I wanted to head to the north to see Aurora from Germany, but the problem was I could stay only 90 days in six month in Schengen Area that I must go out somewhere for three months. I decided to go to Russia because Korean didn't need Russia visa since 2014. I took a ferry and crossed Baltic Sea from Germany. After spending one night in a ferry, I arrived in Latvia. Latvia looked a bit different from other Europe. First of all, raining welcomed me.
It rained all day that my clothes were wet. I asked for setting my tent at local people's garden and the family let me stay at their house. It was interesting to see new local culture. There was stove with the wood that I could dry my wet shoes and clothes.
I passed many mountains in Eastern Europe on a bicycle and I cycled long distance in a short time at hot summer as a vegan that it was no problem so far. The most important thing I did was just eat lot all the time. Then it was fine.
After raining, the temperature dropped that I felt chilly. I went to a forest to practice wild camping before Russia. It took almost one hour to set up a new tent which I got from German friend. It was more complicating and difficult. While having fear, I cooked some food and had it with beer. I passed 22 km (13 miles) in Estonia, another Baltic country to head to Russia.
The weather was turning to the winter in Russia that it was hard to cycle.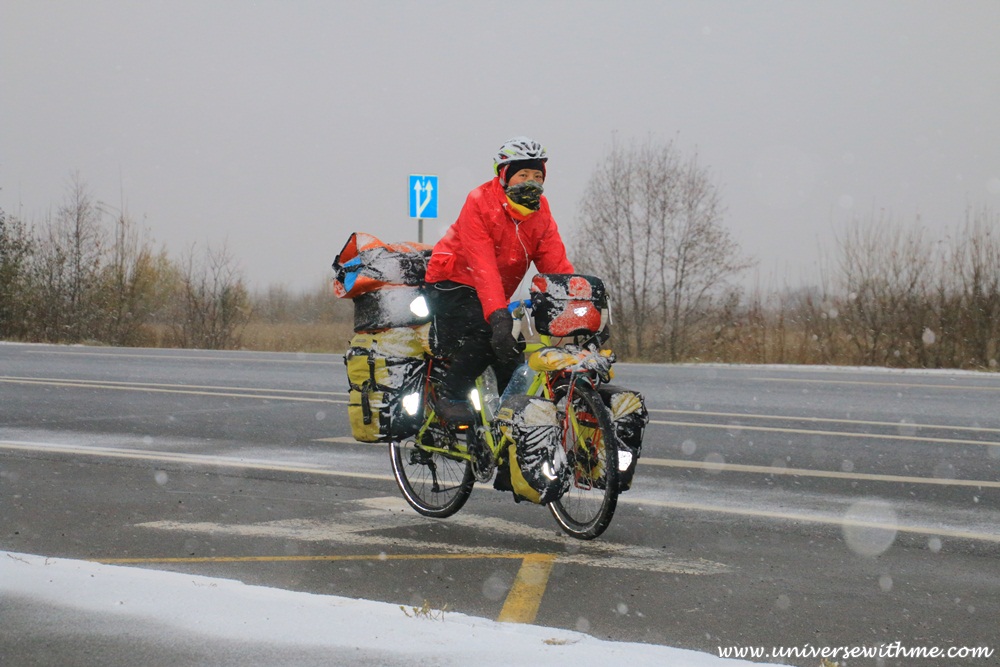 Even I saw snowing that it was my first time ever to cycle with the snow. I was very excited like a child.
But excitement didn't go long because I saw snowing often and I was being nervous about it. Usually there was no snow on the main road, but once I had to enter to cities, it was difficult to cycle because there was snow.
The bottle of water was frozen usually after a few hours cycling that I could not drink water well. The worst part was that canned beans were too frozen to eat. I had to go to a restaurant everyday to eat something and melt my frozen body. But there was no any food for a vegan except French fries. After six months, I gave up vegan.
In Americas, Africa, and Europe, usually there were always small groceries or villages in 20km (12.5 mi) to 30km(18.75 mi). But one time in Russia for 150km (93 mi) there was no any single small building at all. It was the longest distance I have ever cycled without anything. I didn't have choice that I had to do wild camping, but unfortunately it was raining. I tried to hide from the road that I set up tent leaning and it made my tent flooding. My clothes, gloves, and all camping gears were wet and the weather was around below zero that I felt too cold. Above all, it was wolf and bears area that it was scary.
I was starting concerning about keeping going up or turning to Finland to head to south. The sad thing was I could not see Aurora yet that I didn't want to go to the south without seeing it. Pants and jacket of water and wind poof were helpful to prevent losing the heat, but the problem was fingers and toes. Every a few hours in every day, my fingers and toes were frozen. I had to keep moving them under shoes or gloves or shacking hard to melt. At the moment of melting, there was big pain like exploding fingers and toes. My nose was running all the time and it was difficult to wipe on a bicycle. Also chick was cold as well. Nonetheless, I didn't want to give up that I decided to keep going up.
Just before 50 km (31.25 mi) to my last destination, a biggest city in the northern Russia…
I was hit by car from behind. It was my fourth car accident on my bicycle trip. But it was the worst car accident ever. Actually a few famous world cyclists were killed by car accidents in Russia that it is quite dangerous to cycle in Russia more than in other countries.
There were many things going on after the accident and I got too shocked ever about all. I decided to not cycle anymore and I hitchhike for the last part to Finland.
I was so happy ever once I got to Finland because I could see people smiling and greeting at me. Actually I had difficult time in Russia because of different culture. In Russia people on a shop or street didn't smile usually at a stranger but they made angry or cold face that I felt very difficult to communicate. As the person who loves sharing smiling, Russia was very difficult country for me. I tried many times smiling first on a shop or street, but the result was all the time same, cold face. Half Australian and Russian told me that if you smile like that without reason, people in Russia would think you are dumb. Even in Russia, I had highest language barriers in the world that I have ever been. People from Sudan which forbade teaching English with hating the U.S could speak better English than people in Russia.
The thing I loved the most after coming to Finland was people's way of thinking like 'to hit people on a car is wrong because human is first.'
Snow was packed hard on the tree and cycling around those trees was just fantastic memory in my life that it was one of the best routes I have ever cycled. And finally I could see northern lights with Lucky (my bicycle's name)
I had frost on my hair every day. One of difficult things to cycle in the winter was a short day time. The sun went up around 10 am and went down around 2 pm that I had only four hours to cycle. So, I made only 30 km (18.75 mi) to 40 km (25 mi) per day. I could not cycle faster as well because of the snow on the road.
When I cycled in Russia, I asked to set up tent at their yard. Then people let me sleep at the inside. Usually it was fifty-fifty that people said yes come in or just say no. Before coming to Finland, I was very nervous about how to find a place to stay for a night. It would be too cold to do wild camping and Finland were one of richest country in the world that I thought people would not open the door if I knocked. But contrary to my expectation, in Finland most of people said yes and invited me to their house. Finnish was one of the most hospitable people in the world in my experience. All of Finnish houses had a sauna that I could have the sauna after cold cycling all day. Finnish loved Sauna so much that every house has it and if people stayed in an apartment, usually sauna is at the underground. There is a time table and people write their name to have private sauna.
I could not see Aurora again while heading to the south. I didn't want to go to the south with seeing weak aurora one time. I researched hotels on google map of the northern Finland and sent a message to get a volunteer jobs.
Luckily, Hotel Korpikartano contacted to me.
I was keeping in touch with one Finnish guy on online that I could leave my bicycle and luggage at his house. I took a bus to go to the north again.
I had volunteered from the beginning of December to January at Hotel Korpikartano. My job was actually nothing special that I just helped other staff, taking care of safari gears, and cleaning snows around the hotel if there was snowing lot. I could stay in a room with a bathroom alone for free, which cost actually 70 Euros ($80). Also there were always lots of food at fridge I could have for free because the hotel run restaurant as well.
I was happy to spend Christmas and New Year together with same people. The owner, Anne, was so kind that she let me have experience of all activities for free like Cross country skiing, Hunting Aurora by snowshoeing, visit Husky farm and doing dog sleding, Snowmobile safari, visiting reindeer farm, and ice fishing with snowmobile.
The hotel was far from a village and city that it was just at the middle of the forest. Just a few steps away from the hotel, I was already in the wilderness. Usually if I stayed in one place, I became so lazy that I didn't go out often. But to stay in Hotel Korpikartano was exception that I went out every day to have adventure life such as making fire, cross country ski, walking in the forest or frozen lake, and hunting Aurora. I had seen Aurora a lot that I got all reward after hard cycling in the winter. It was so worth to come to cold winter. I had many unforgettable memories while staying up north.
There was less snow at the central Finland on November. But when I returned to my bicycle, it snowed almost every day. The coldest temperature I cycled on was -21 c (-5.8 f). It was really scaring to cycle with heavy snow sometimes.
It would take time to explain about the above picture. As usual, I knocked the door before the sunset. There was only middle?old? guy on a house. Usually many young Finnish could speak English, but old peephole could not, so we communicated with body language. But I felt weird from the beginning. It looked like he was keeping drinking alcohol behind a kitchen. It was said Finland had alcoholic problem.
The house was big enough, but the guy didn't tell me where I should sleep. I was sitting on the couch, and then he shouted at me something. I could not understand but I felt more and more scared. I didn't feel good anymore and I decided to run away. I took my jacket slowly as speaking something quietly. Then suddenly I opened the door and run to the highway with a bicycle and then I stopped a car. The driver called a police for me. I was hiding at the police car and police officers collected my all luggage from his house. I didn't make any report because nothing happened between him and me. I thought it was a better idea to run away before something happened than to wait and attack him if something happened.
I didn't have the place to sleep that police officers let me sleep in a jail for a night for free. So the picture is the place I slept, Finnish Jail.
I was thankful to police officers for helping me. Good thing was they didn't blame me, but just let me take the rest at the jail. None of Finnish blamed about this accident like "You are a girl. It is all your responsible." that I could overcame easily this accident.
To cycle on January in Finland was very beautiful but difficult. When I got to the capital, I was so happy. Yeah! Amazing experience! The guy whom I met in South America introduced me his friend in Helsinki that I could stay with them and had fun. It was so awesome to try indoor climbing with them as well. Thank to them, I found very interesting hobby, climbing!
After staying one night in a ferry, I could reach to Stockholm in Sweden. It was one of the most expensive countries in the world that I expected very civilized thing. But then it was a bit shocked to see lots of garbage on the road. Most of pedestrian crossed on the red light and guys pee on the street at the center of city in the night. There were many beggars (Gypsies, not local people).
Stockholm had old European buildings which Helsinki didn't have that as a tourist Stockholm was more interesting to tour.
My plan was going to Poland that I had to catch a ferry in Nynashamn which was 50 km (31.25 mi) far from Stockholm. But suddenly it snowed lot at the day I had to cycle. I could miss my ferry and lose money that I had to consider to take the train. But first I wanted to try hard and take the train if there was not enough time. And thankfully I succeeded to arrive on time at the port. It was time to leave the north.
After sleeping on a ferry, I got to Gdansk, a tourist city in Poland. I found a very cheap hostel that I took one week rest.
I kept cycling to the South in Poland. There was no more snowing, but I felt colder. I visited uprising museum in the capital. The museum was very good that even it made me feel I was at the moment of war. Later I visited science museum as well. There was the second biggest Nazi camp near the border that I visited there.
But actually I should not visit there because I realized I got depression. Sometimes I was fine when I met people. But many times my feeling was totally like the weather, grey cloud and I didn't know why I was like that. Just at the end of winter, I found out the real problem, melancholy. It didn't mean I wanted to kill myself. It was more about I didn't feel any feeling. It was hard to describe. I thought it was because of too much stress after the car accident in Russia and gloomy weather with the less sun. I didn't see the sun for months.
Although I could stay only 90 days in 26 countries in Europe, I stayed total 128 days, overstaying 38 days. But there was another rule that I could stay in some countries for each 90 days and I could deduct from my staying if I stayed at those kinds of countries. It is complicating rule and if immigration told me Schengen visa is more important, I would be in a big problem. I felt so lucky that Polish immigration was interesting about my bicycle trip that he asked only about it and he didn't ask anything about my overstaying.
When I was in Poland, I had broken crown on tooth. I thought to have treatment in Ukraine would be cheaper that I decided to rent a flat and go to a dentist in Ukraine. Fortunately I found a flat just at the next day after arriving. I was so happy ever that I could have my own place finally!!!!! The ceiling was very high and it was like princess room. I overcame depression without any effort as the spring came and there were more sun light.
Ukraine was having war with Russia at that time that they were having an economic crisis. $1 was usually 8 hryvnia before, but when I was there $1 was 26hryvnia. GNI in Ukraine is very low that actually everything is cheap to a tourist, but because of crisis it became the cheapest country in the world. I had meal and drink with only two to three dollars in a good restaurant. In Africa or Latin America, if I had same food at a same quality restaurant, I should pay at least $10 to $20. Of course if in Europe, maybe it would be 15 to 30 Euros. In Ukraine, every day I went to a restaurant, which I have never done in the trip. Somehow I felt guilty because I felt like I was enjoying their crisis. But the thing was I didn't pray for them to have crisis or encourage war. Actually I was spending money there and it could help their economy just a bit, so it would be not bad thing at the end.
When I was on a bicycle, every day I slept at the hotel. It was my first country in the trip that I didn't ask people to set up my tent at their yard because I always slept at the hotel. The hotel like the above picture was only $8~$15, extremely cheap in the earth. Actually I could understand why people are crazy about money. Yeah it was true that money was power. I could do many things with money that I got the power on the trip. For my case, I could cycle very safely with the money because I didn't have the risk to sleep at a strange place.
Even I went to a ski resort! First time in my life, yeah! It was April that there was last big sale! But on the way it snowed lot. It could be good for skiing, but I could not understand why there was the snow a lot even in the spring. I felt like I was still in the northern Europe.
Thank to the spring sale, lift was only 9$ for whole day, a good hotel was 9$, and the rental was 2.7$. I could go skiing all day and sleep at the hotel with only $20.7. If there was no Ukraine crisis, the price would be 70$ for everything. If I came one year ago, I would not try to come to the ski resort.
I stayed for a week. After three or four days, I started to do skiing at the slope for advanced skier. I was going like zig zag with slow speed. However, it was surprising to me that I could do skiing at very steep slope. Bukovel, the ski resort, had many different slopes that I usually tried all of them every day. To go to a ski resort was my big dream that I made it. I enjoyed it so much.
Finally after crossing Romanian border, there was no more snow. But it seems like I forgot the spring and came to directly the summer. In Romania, I cycled over 40,000 km (24,854.84 mi) that I made picture to congratulate myself. I had many good days and difficult days. After all, I was here and I will keep going to home.
Before coming to Romania, I was afraid of Gypsy. Around the sunset, one kind family invited me at their house. They fed me and I talked to them. While talking, I was surprised because they told me they were gypsy. But the house was three stories high and it was quite good. (The picture was taken at the place like garage.) The only thing I knew about Gypsy was about bad things and some judgment from other people. But while staying with them, I have learned many new things about Gypsy.
The advantage of traveling with a bicycle was I could go to close to local people and learn things which I could not know before because of judgment and press which wants tell only about stimulating thing.
In Bulgaria, I could find very cheap resort with a big swimming pool for only $11 on online. There were a room, kitchen, toilet with of course hot water, air conditional, and living room. It was beach area and just before starting the season. That's why it was extremely cheap. When I was in Zanzibar, a very touristic Island in Africa, I passed many resorts. At that time, I was wondering when I could stay such a nice resort like that. Yup here I went. Always it is better to avoid high season because I am not on a vacation that I don't want to pay more.
After the resort, I was hurry to the south.
The reason I was hurry was I had the plan to travel with my mom for two weeks in Europe. The friend whom I met in the trip was staying in Istanbul that I could leave my bicycle and other things and I borrowed the backpack from her. I was thinking where to go when I was in Romania. Then I decided to go to the most touristic places, Rome, Florence, Venice, and Paris. Except Rome, I had been already that it was easy to make the plan. Rome was interesting because it was new to me. I wished so much to visit Florence again, but actually it was not special anymore at the second visit. There were not much excitement in Venice and Paris, but it was more about peaceful. We cooked together and toured together. It was really nice to travel with my mom. I hope I could travel with my mom at South Asia or Australia again. But I was not sure how I could make money to travel together.
After the trip with my mom for two weeks, I came to Turkey by the plane. Finally my Europe trip was finished here.
I took the picture at every 1,000km (625 mile). The distance on a bicycle in Europe was quite long. I had cycled 18,365.53km (11,478.45 mi) for one year and five months. I could only cycle 11,000km (6,875 mile) in Americas for one and four months that I was improved at cycling.
In Europe, it was the same as other continents that many people let me set up my tent at their yard and some people invited me at their house. I did wild camping alone a few times as well.
I tried many different foods as well.
I've met very good people as well. To take the picture of people is really good thing because it made my memory stronger that I can remember all of them clearly. Although I could not write about many kind and good people on this post, I still thank to all of them.
I appreciate to people who shared their time with me, invited me, helped me, followed my journal on online, left comments or sent an email, and donated at me.
I was much relaxed to cycle in Europe because there were many things which make sense. So far Europe was the best continent to cycle as a solo Asian girl.
But it was time to forget all those comfortable things because I will head to the Middle East.
Europe Continent
The distance of cycling: 18,365.53 km (11,415.02 mi)
The total expenditure: $11,589.86
(Gears: 2,715 $, Flight : 267$ )
The total days: 514 days (One year and five months)
The total countries: 25 countries
The total cities: 207 cities
The video I took during the trip in Europe
Made some fun video in Europe

===============================================================================
Epilogue
The above picture was taken in Oman, the Gulf. Actually it was not my plan to visit the Gulf. My plan was to pass Turkey quickly and before winter head to Central Asia which has high mountains. But it was not possible plan because I loved traveling slow. So I was middle of the middle East around the winter and I decided to spend winter in summer area.
Always my biggest wish is to cycle safely and happily that I hope I could survive in the Middle East without a big problem.