The pandemic began in 2020, and by the end of that year, it seemed like it would never end. However, the world gradually started reopening in 2022. I was excited to travel to a new country after being stranded in Australia for two years. Upon arriving in Nadi, Fiji, I discovered that the bicycle box was broken in two pieces. Luckily, nothing inside was damaged or lost.
As Fiji is a small island country, not many people come for a bicycle tour. Direct flights from Australia and New Zealand take 3 to 4 hours, attracting mainly Australian and New Zealand tourists.
After arriving at a budget hotel, I took a nap due to a late-night flight. Feeling itchy, I searched for mosquitoes but found none. Then, I noticed a bed bug on the bed. Thankfully, there weren't any more.
The bed bug in Fiji was different from the bed bug I was bitten in Africa, Australia, and Southeast Asia . I noticed it immediately after being bitten, and it didn't itch like crazy. I felt that the locals in Fiji were very kind, and even bedbugs were generous here.
The first day in Fiji ended, bringing a feeling of relief from the long pandemic. The stunning sunset painted the sky, making it a truly memorable moment.
This is Fiji money. $1 USD is $2.2 Fijian Dollar. In Fiji, there is something special—$7 bill. I asked it at the supermarket, but they didn't have any. My goal became obtaining a $7 bill while traveling Fiji.
I heard there was no bike shop on the island, so I left my bike box at the hotel for storage.
I visited a nearby used bookstore but couldn't find many books I liked, as most were crime thrillers. After some searching, I came across a book about a Sudanese woman modeling in Europe and decided to get it.
I saw a Hindu temple while looking around the city center. Fiji's population is 54% Fijian and 38% Indo-Fijian. The country has a complex ethnic makeup and has faced political instability in the past. The conflicts in Fiji started during British colonization. The British brought Indian immigrants because the locals didn't cooperate. Sudden mix of cultures led to misunderstandings and tensions among the different groups. However it has been quite stable now as the time passing.
A similar situation happened in Malaysia, where the British brought Chinese immigrants due to local resistance. There has been a gap between the Chinese and native Malaysians economically after many years passing. During my stay in Fiji, I noticed the gap as well. For example, hotels had mostly native Fijian staff and Indo-Fijian guest. At expensive resorts, most of guests were Caucasians though.
I visited a lively fruit and vegetable market. The locals' constant laughter filled the air. This laughter had an effect on me. Back in Australia, I had been struggling with depression, loss, and loneliness during Pandemic. But in Fiji, hearing their laughter felt like a healing therapy. It brought a ray of light into the darkness that had enveloped my heart.
After leaving busy Nadi, I found a peaceful road where I could ride my bike easily. People said that small island people are laid-back, and in Fiji, I truly understood why. There was no need to hurry here. That's why I decided to cycle 20 to 30 km (13 mi to 20 mi) per day in Fiji.
When I asked a house by the road if I could camp there for the night, the friendly locals immediately said yes. They even invited me to join them for dinner.
The person beside me is the one who let me camp last night. She is a Fijian native who married Indo Fijian and lived with her children and in-laws. Her husband was in New Zealand for health reasons. Their souvenir shop had been closed temporarily due to the coronavirus. I wished them everything going well soon.
The bike tour in Fiji was simple. There was only one main road to follow. Occasionally, when a country road was next to the main road, I entered it and rode my bicycle slowly. The locals on the road always greeted me with "Bula (hello)". It made me feel like "Yeah, finally I am back to traveling. Also, it was really nice to feel welcomed. To me at the time, "Bula" was like a magic spell to heal my mind.
Accommodation prices in Fiji were similar to or even more expensive than in Australia. Being a remote island, it's understandable that prices tend to be higher. However, I was disappointed with the facilities considering the amount I paid.
While walking around my accommodation, I found a small island with a huge resort which looked quite luxurious.
I saw a laundry room with a lot of things to wash. Probably this places works 24/7.
Next to him, I saw the staff having a meeting. I felt that everyone was working hard until late at night.
Fijian houses were simple with very well decorated garden. The lawn is neatly mowed and filled with various potted plants always, making it look peaceful.
The accomodation at this place had kitchen. So I bought oil at the little store on the road. But it took so long to fry vegetables and taste were really weird. Having a few non tasty meals, I realized it was for skin. I just passed it to local lady.
This accommodation looked like a newly built building, but as soon as I lay down, I was bitten by bedbugs. Fortunately, after I caught one, I didn't get bitten anymore.
When I was in Australia, I had circular hair loss on the back of my head due to the stress. But it seemed that there was also hair loss on the top of my head. I looked in the mirror and saw sprouts growing on top of my head. Are buds sprouting again in my life? The depression I felt in Australia was no longer felt in Fiji.
The weather was always sunny, and the sea view was great. After a long time, I was able to feel various emotions as usual.
I asked if I could set up my tent for one night at a local's house, but they invited me inside to sleep.
There were brothers and sisters lived together. The picture is showing their grave of parents under a traditional Fijian roof at their yard.
I was taking a break and buying water at the supermarket. A woman came and asked me to come to her house for breakfast. I didn't want to bother them, so I said I am okay.
Afterwards, another woman walked by and invited me to her house for tea. I followed the her because I thought I could drink it without any burden, but I never imagined that something like a movie would happen. Climbing up a tall palm tree without any equipment to pick coconuts, at the same time his relative catching and pulling up an octopus, and children running around collecting shells to prepare fishing bait, etc. It was the highlight of the trip. (Video added at the bottom of the blog)
The day that seemed like a movie was coming to an end. Somehow I ended up staying for two more days.
The next morning, the woman who invited me was making buns, and her son and daughter were preparing to light a coconut and grind the coconut shell. It was the most delicious bun I will never forget for the rest of my life. They said they make buns like this every Sunday and share with everyone.
For Sunday lunch, all relatives gather together to eat at oldest brother's house. Interestingly, in Fiji some people eat while lying down.
One of relatives said she was cleaning up the grave behind the house, so I followed her. The girl in pink in the picture was the youngest daughter of the house that invited me. Seeing her reminded me of when I was younger. The youngest daughter in the house will be either a maid or a princess. When I was little, I often shouted "Why everyone order only at me?"
They put on a new cloth and brushed off the dust. Although the way to maintain a tomb was different from my country, the feeling what we feel would be the same.
As the sun went down after coming down from the tomb, one of the family members was feeding the dog. She smiled shyly at me and asked, "We feed the leftovers to the dogs. You must have never seen like this before?" I smiled shyly as well and said, "I've seen it this because my country does the same thing in village as well."
After traveling many countries, I've learnt the way we live is similar at the end.
This became really nice place as I met a friendly family.
After that I moved to a resort having dormitory room, which was nearby the kind family where I camped. But everything was expensive at the resort restaurant and there were no supermarkets around. I often ate the cheapest soup.
At the house where I had camped, youngest son had a birthday. So I bought fruit and a soccer ball and a toy truck for his birthday.
It was very difficult to catch the bus on the way back. Because I had to get off in the middle of the road, which I couldn't tell an exact name. Fortunately, I got on the bus with the help of a local.
For the birthday dinner, Lovo was prepared. It is a traditional Fijian meal; Dig the ground, put stones, and heat it. And then food wrapped in leaves was buried and cooked.
The whole family got together to celebrate youngest son's 10th birthday.
Unfortunately, my depression came back at the resort.
I was attacked by the black dog which was raised by New Zealand staff. And Australian owner told sometimes this dog tried to attack the guest but the owner still let aggressive dog run around without leash. Also, due to resort's atmosphere which is too long to write here, I've felt very deep loneliness again which I had in Australia during Pandemic .
It was sad to go far away from the kind Fijian family I really loved, but I really had to leave this place for my mental health. I didn't want to go back to my dark time again.
I climbed back on the bike and said "Bula" to the locals I met on the road. I felt much better, and I thought it was a good thing to get out of the resort. No matter how good heaven is, if it doesn't suit me, I thought that I needed determination to leave it.
There was a local who made and sold food by the side of the road, and the price was reasonable and the fruit juice was fresh. There were so many stray dogs in Fiji. Occasionally I would share food with them, but there were too many hopeless dogs, so there was no way I could help.
I went into the village and asked if I could pitch a tent for the night, and local said yes. In Fiji, the rate of success to get the permission to pitch a tent at local's garden was 100%, which was rare on my world tour. I was invited to sleep inside later.
And on this evening, I was invited to the long-awaited Fijian traditional Kava drink. Kava is a drink that dries and grinds the roots, and it is said that if you drink this, you feel drowsy. But I didn't feel anything special. It also had a taste similar to Korean grains mix drink.
The scenery on the way to Suva, the capital of Fiji, was so beautiful and serene. But in reality, I was tired from not sleeping well at night. In fact, after coming to Fiji, there were many days when I couldn't sleep properly at night. There were so many street dogs that barked all night long. I thought there might be more dogs than people in Fiji.
Local said it rains a lot in Suva, but when I arrived, I saw clear skies most of times.
During my stay with an expat couple in Suva, I discovered a fantastic board game called Wingspan. It's a must-have for bird and animal lovers like me! The game is based on bird habitats and features beautiful bird illustrations.
Most of Fijian become Christian since the western came into island and specially small village people became more conservative such as hiding legs by covering clothes. I heard I had to wear Sulu to hide my legs when I visit rural area. I was quite excited when I bought Sulu as I wanted to follow their tradition.
But my host shared an perspective which I didn't think about: "When Westerners first came to Fiji, they criticized the natives for not wearing clothes. Now, they criticized the locals for covering their whole bodies with clothes."
I wanted to learn the Fijian language, so I looked around the USP (University of the South Pacific) bookstore. But I couldn't find what I want. I just bought some book about South Pacific. At USP, someone noticed me and greeted at me. At the time, I uploaded Fiji Vlog on YouTube, and there were occasional locals in Fiji who recognized me.
When I talked about $7, she suddenly took out a $7 bill and gave me. I kept rejecting it, but she handed it over saying "I really wanted to give you as a gift."
They introduced me their school snack at the bakery. It was so sweet and delicious that I bought it often afterward.
They also showed me around the USP. In fact, Fiji's USP is the largest and most important university in the South Pacific.
I also met a guy from Nauru who was attending USP. Nauru is a Micronesian country with a population of 12,000. What really left a deep impression on this friend was that he went to England and held discussions with university students from all over the world, fighting for the eradication of obesity in Nauru. In addition, I met other people from the South Pacific countries such as the Solomon Islands and Samoa in Fiji. The more I got to know the South Pacific, the more I wanted to visit various South Pacific countries.
After coming to Fiji, I first became aware of the existence of the South Pacific. In the South Pacific, there are three major races: Micronesians (Shorter height compared to other pacific people), Polynesians (look a bit like Asian), and Melanesians (Look a bit like African, but blonde hair when kid). Fiji is a mix of Melanesian and Polynesian populations.
As Singapore is the hub of Asia, Fiji is the hub of the South Pacific. Many flights to and from the South Pacific transit in Fiji. Many students from the South Pacific also go to Fiji USP to study. Many leaders came to Fiji to increase their influence. Chinese President, Indian Prime Minister, Australian Prime Minister, and New Zealand Prime Minister also drank kava in Fiji for that.
In fact, Grace Road Church, a Korean religious group, exerted a big influence in Fiji's local society. Grace came to Fiji in 2016 with 400 South Korean Christianity as Reverend said Fiji is promised land by God. In 2016, Fiji was destroyed by typhoon badly and Grace was helping such as building new houses. So Grace got trust from local and grew their business.
I also saw their large farm, Grace Farm, while riding my bike. Mobil gas stations, the world's large oil company that once ranked first in market capitalization, are spread throughout Fiji, and there are always Grace-affiliated restaurants or supermarkets next to Mobil. There are many businesses in Fiji that Grace is in charge of.
True Mart (Hypermarket), True Value (Hardware store), Bata (Shoe store), Grace Beauty (Beauty clinic), Grace Dentist (Dentistry)
Grace Kitchen (Restaurant), Noodle Story (Restaurant), Fierce Chicken (Restaurant), Olive Tree (Restaurant), Awesome Grill (Restaurant)
I Sushi (Sushi restaurant), Sunny Pizza (Pizzeria) Pure Green (Food court)
Snowy House (Cafe, dessert), Patisserie Pacific (Cafe, dessert)
Other hypermarkets catering to the middle class also carry Grace Farms products. The place run by Grace is clean and nice, so foreigners and the middle class were going there in general. Grace products were not too expensive for foreigners to use.
I also used it at the beginning of my trip without knowing them because there were with nice air conditioning and clean toilets. But a foreigner I met at the resort told me about Grace, and when I searched it, I thought it was a place that didn't fit my philosophy, so I didn't use it anymore. But that foreigner who told me about Grace said "Although I told you about like who they are, I can't stop eating their  kimchi. Their fried kimchi is so delicious."
(There may be legal issues for defamation in South Korea. So please do not comment about Grace. If you are curious, search yourself.)
My favorite shoes, which I bought second-hand for U$4 in Australia, were worn out, so water kept getting in when it rained. I left it at a repair store, but the water kept coming in. I guess it's too old. Afterwards, I left my bicycle waterproof bag to another repair shop to repair the torn parts, and it was fortunate that it worked surprisingly well.
Actually there is one thing I remember Fijian told me. He said 'Fiji land is a very important on Christian, so Israel is looking after Fiji, and Fiji is going for the Israeli army.' I researched about it but I couldn't find any information. Anyway, I met a few Fijians who actually served in the military in Israel though.
I wanted to stay in Suva for another week or so, so I looked for a place to stay. On previous accommodations, the bed bug didn't come out anymore after catching one, but here, even after catching 5 or 6, it continued to come out. When I talked to the landlord, I was told to stay overnight in another room as a temporary.
The next day, all the bed mattresses, covers, and pillows were changed.
But bedbugs always came out one or two times a day and bothered me.
Bed bugs in other continents can only be noticed after two or three days of being bitten, and are so itchy that you have to scratch all day all night. However, here bedbugs have similar symptoms to mosquito bites, so you notice them as soon as they are biting, and the swelling range is similar, and it is very itchy at the moment of being bitten, but it subsides over time.
And I ended up quarantine with these bed bugs. It was the first time I've been infected with covid19. I had the 3rd vaccination in Australia for the trip, but a month later, I got it. I have been suffering with for over a week from bloody sputum, runny nose, stuffy nose, headache, muscle aches and body aches. Most of all, the cough was so bad that I couldn't sleep well.
I was very fortunate because I was sick in the accommodation where I could stay alone (with bed bugs). Most of all, I was really grateful to Summer, a Korean friend I met in Suva, who kept taking care of me via text message asking if I was okay and brought me medicine and food.
I posted on my Instagram that I want $7 dollars so much. A local Fijian told me to go to the central bank. I went to the central bank for the first time in my life, and I could buy $7 bill as much as I wanted. It was also nice to be able to look at the history of banknotes. I bought 14 copies to give to friends or people who helped me. (About U$50)
Fiji is strong in 7 rugby, and they made a $7 bill to commemorate their Olympic victory. Fiji is the only country in the world that has a $7 note.
Fiji's population is 920,000, but there are not many people who ride bicycles regardless of age or gender. The country is not that mountainous, so I don't know why people don't ride a bike. I happened to find a bicycle shop in Suva, and it sold a variety of things besides bicycle parts. Fortunately, I was able to buy the parts I needed.
When I left Suva, it started to rain often. I had to rest for a while on the side of the road to avoid the rain.
While waiting for the rain to stop, I saw a girl riding a bicycle. It was really nice to see my two wheels friend.
I ate really delicious lunch. Fiji's staple food is Dalo and Cassava, a root plant.
Before moving on to another island, I was able to pitch a tent at a local's house for one night. In Fiji, the language used by each tribe is different, but since English is used in common, it was good to be able to have deep conversations in English.
The next morning I saw an amazing sunrise. Fiji must be a country with the most wonderful sunsets and sunrises.
The road to Levuka, the old capital of Fiji, was quiet. It was a hot day so I took a break in the shade.
The ferry to Levuka was quite large enough to take big trucks and cars.
Levuka Island seen from the ferry was like a scene from a Moana animation.
When I arrived the port, it was raining. After receiving the permission of the locals and setting up a tent, I was able to learn many things about the island while talking to them. There is a large tuna factory on the island, which supports the island's large economy.
The next day, I started cycling around the island, but the steep slope continued.
The road conditions were rough, so on the downhill the front rack was broken and I fell.
My palms were bleeding, and my legs and arms were quite sore.
The bicycle brakes were quite worn out that did not hold well. I can tighten it with an hex wrench, but the problem is that my wrench was gone. I don't know where it went or who took it. I came too far to return to the port. The slope was so steep that it was impossible to get off the bike and slowly push it down. The soles of my shoes were slippery, so when I tried to drag the bike, it slipped even more. There were no cars around, so I had to go by myself.
Going down this crazy slope without brakes was like suicide, and not getting hurt here was the greatest luck of my life.
After arriving at a village just before sunset and being allowed to pitch a tent, I asked if there were any wrenches at home, and to my surprise, she said she did. Thanks to that, I was able to adjust the brakes. After it, she invited me to come inside and sleep, and it was a modern house with warm water.
In the evening, the owner of the house came back, saw my broken rack, and offered to fix it. It was a very small rural village without a supermarket, but he had all kinds of equipment. He was a truck bus driver, and he must have been tired from working all day, but he went straight into repairing it. It took quite a long time, so I thanked him and handed him some money, but he continued to refuse to accept it. I said that it would have been much more expensive if it had been repaired elsewhere, and I handed it over to him.
The road on this island was unpaved, so people had to take a truck bus. Early in the morning the owner of the house went out to give people the ride.
I started riding my bike again. Because there were a lot of gravel, I sometimes slipped a bit so steep downhill was scary still.
The island was small, so I thought it would be easy to get around in a day, but it was a very wild tough place.
In the morning, I passed through many hills and entered the flat road. There was a resort before going back to Levuka. I got a chance to talk to the resort owner. The original owner was an English man, but he married a local and gave birth to a son, who then took over the business.
Business was really difficult during the pandemic, and above all, when Covid19 was in full swing, no other ship could come in except for the one carrying the groceries. When his wife and son went out to Suva, there was lockdown and isolated from his families. Even if there were no customers at his hotel, money continued to go out because maintenance had to be done, and the salaries of the employees who did the maintenance continued to go out.
He heard the news that the government was carrying out a road pavement project in Levuka when he was having so hard time economically and mentally. His resort was chosen as the accommodation for the construction workers to stay. Thanks to this, the resort had been fully booked for over 6 months, and he was able to solve all of the staff's salary problems and maintenance costs.
There were some people whose lives have not been significantly affected by the pandemic. However, I had a hard time and I speak honestly about it. The reason is that if I tell my story truthfully first, the other person will also tell me their story, and in that way, we will receive the strength to endure each other's wounds.
Sometimes I think like this. If you are still breathing on this earth, I would like to say that all of us are survivors of the pandemic war.
There are only about 5,000 people living on this island, but a hardware store was selling various items including hexagonal wrenches. Originally, I used a small bicycle multi tool, but the large wrench shown in the picture were much more comfortable, so I have been carrying them ever since.
Summer, a Korean friend I met in the capital of Fiji, visited Levuka for the weekend. She was really funny that I often laugh out loud. The accommodation we stayed was nice and quiet as this place was famous for meditation yoga place.
I came out on the same ferry as Summer. Summer went back home in Suva and I waited until late at night to transfer to another ferry. This time, the ferry headed to Vanua Levu, the second largest island in Fiji. Since it was a night ship, everyone slept with the blanket, so I took out my sleeping bag and went to sleep.
I arrived at a place called Savusavu, and there was a foreign grocery store, and I saw many sailing boats and modern houses. It turns out that this was a neighborhood where rich people lived. Nandi and Suva were crowded and the scenery was just so so, so wealthy foreigners who wanted to live quietly came here. During the pandemic, the town's economy had been struggling as many foreigners left because of concerns over the hospital facilities.
The town was small, but there were quite a few decent cafes and restaurants. I was eating at a cafe with a nice view, and the fish were eating and spitting out plastic repeatly.
"Oh, what is this? Oh, can't I eat it? Okay I will look for other foods. Huh? What is this? Let me try eat. Oh, I can't eat it." They repeated this every 3 seconds. Or do fish like to eat plastic?
Fiji's sunset is always spectacular.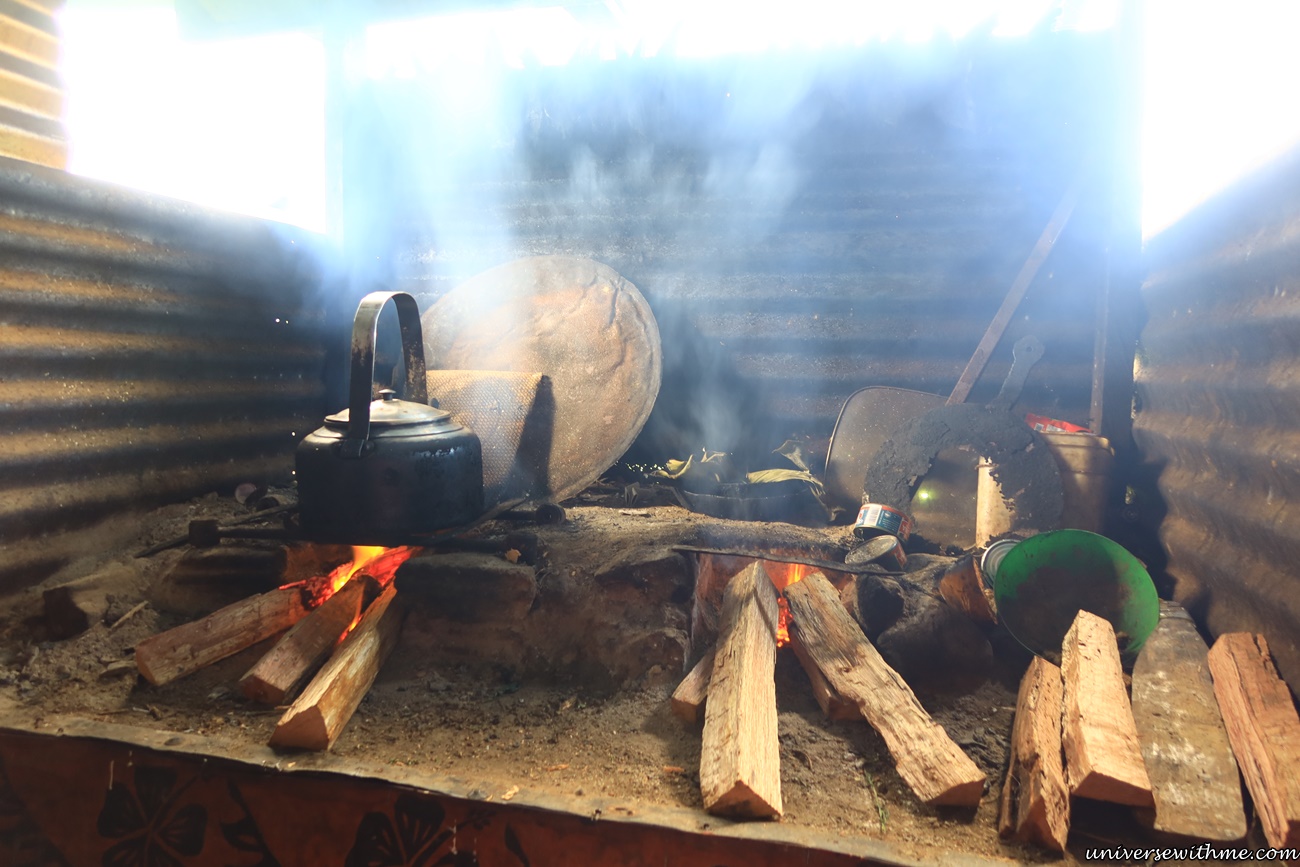 I pitched my tent for the night after getting permission at a local house. The tour in Fiji was well balanced. I was able to stay at a local house and learn about their culture, and when I needed my own time, I booked the accommodation to organize my thoughts and edit YouTube videos.
The island's main road went through the mountains. The pavement was good, but the steep roads were quite difficult. There was a junction where all buses stopped. In Fiji, a wrap with chicken, potatoes, and curry sold cheaply. I tried it for the first time and it tasted good. I went the bathroom several times in the next morning though.
Originally, I only cycled 20 to 30 km in Fiji, but on that day, I cycled almost 100 km (62mi) since I had to be in time for the ferry, so I cycled late in the night. Often, the road was totally dark as there was no village and cars. Sometimes people walked on the middle of road without any flashlights nearby a village. So I had to be careful not to hit them.
Then I saw two men in the middle of the road at some point, and I was about to pass by, and one of them tried to chase after me while talking something to me. It was so scary to run into a strange man in a place where no cars and lights, so I cycled so fast. The other man seemed to be stopping his friend by asking why he scared me. I wondered if he was just drunk and wanted to talk to me, but at that moment, I was terrified and my heart raced like crazy.
When I came near the port, I was relieved that the cars keep passing by. Ferry was so full that it was difficult to walk as many people going back home from watching a rugby match.
The ferry arrived in the dark around 4:00 am. There were no facilities around and the wind was so strong that it was impossible to pitch a tent. I explained the situation to the ferry staff and asked if I could stay on the ferry until sunrise. The staff asked the captain and he said it was okay and guided me to a first class room with air conditioning. Thanks to them, I could stay safely and even have some sleep.
Since I was so tired, I found a place to stay nearby. The sunset in Fiji never disappoint me.
There were many sugar cane fields on the road, but it was a pity that there was no place that sold sugar cane juice which was my favorite to drink on the road. On the way to Nadi, there were too many vehicles and the roads were narrow and dangerous.
Before leaving Fiji, Summer and I took a vacation together to the Yasawa Island area. We went by tourist speed boat. There were many islands in Yasawa with resorts on them. When the speedboat stopped in the middle, a small boat came from the island, dropped off the tourists, and picked up the new tourists and returned to their island. I traveled to 6 continents around the world, but it was the first time I traveled like this, so I was very excited.
The island we went to was called Mantaray Island. There was also only one resort here, so it was really quiet and cozy. I thought I could understand what a real holiday meant for the first time.
Our room, which we arrived at after being guided by the staff, was right in front of the sea, so we got really excited. And the next morning, we faced reality. The sound of the waves was quite loud middle of the night. I thought it would be great if tide times were changed.
Mantaray Island was actually inhabited by mantarays. I made one huge mistake to Summer. On the way to snorkeling program with mantaray, I said to her be careful of tail which can kill people. After finishing the tour, I learnt that poisonous one was called stingray, and mantaray was different that it never hurt people. I apologized to Summer, but the situation was so funny that we both laughed like crazy.
I still remember what the staff told to me with a smile. "We are not brave enough to take the tourist to the place where they can be killed."
After that, I went scuba diving, and I was able to see mantarays there too. It felt like seeing a giant dinosaur bird living in the water, so it remained an unforgettable tour for the rest of my life.
If I had been alone, I would not have thought of going to a proper holiday like this. So it was nice to be able to have such a fun trip thanks to having a friend. After having farewell, Summer took a plane back to Suva and I returned to Nadi to prepare to leave Fiji.
I went to the hotel where I had previously left my box, but I could not find it. I asked several staffs, and one of them found my box outside the building. Mold was growing in the box. Even though it rained so much outside, still I could use it again with lots of taping.
An Australian Fiji family stored my bike and luggage during my trip to Yasawa. After returning, I stayed at their house and got their kind help. My host was Fijian and lived in New Zealand as a flight attendant. He married an Australian woman who worked on the same airline and had two sons, but had to quit the job when the pandemic hit. Afterwards, the whole family immigrated to Fiji and made a peanut butter factory that they wanted to try. It was delivered to various supermarkets. It was recognized for its quality and delivered to a 5-star hotel as well.
While traveling in Fiji, I met and talked with various types of people, and I had this thought.
"We all have our own book of life, but most of us don't publish it. I travel the world to read those unpublished books."
There was a problem checking in at the airport. I already paid for an oversized check-in bag online, but they said 'No, you can't take your bike because the bike box is too big.' Since I could not give up my bicycle, a long conversation was made at the counter, and eventually I was allowed to board the plane with my bike.
The pandemic wasn't over that many countries closed their borders. So there were not many countries to go to. Fortunately, I heard the news of the opening of the border of Vanuatu, the country right next, so I decided to go there. To be honest, I first heard the name of a country called Vanuatu in Fiji. It's the first time I'm traveling to a country I've never known before, but I'm going with great expectations, hoping it will be an opportunity to get to know the South Pacific better.
======================================================
❤️ Thank you for reading my journey.
Your support will motivate me to keep updating YouTube and Blog. Thanks 🙂
PayPal Support –
https://www.paypal.com/donate/?business=FX8ZGJV3NVJEA&currency_code=USD
(If the link doesn't work, please use this https://paypal.me/universewithme7jin )
Bank Account Support –
Westpac
BSB : 733-083
Account : 691-852
xxxxxx Jeong
===Videos about Fiji Trip from my YouTube channel===
Arriving in Fiji for the first time, chatting with the hotel driver
First Day Vlog in Fiji
Local Supermarket
Nadi city tour
For the first time in Fiji, I got permission to pitch my tent.
Fruit and vegetables market tour
Biking through small Fijian villages
Meeting a Fijian family, the highlight of my world tour
Making buns with the traditional Fijian way
Go Papaya Picking with kid
Going to buy a present for youngest son's birthday
The day I was invited to the Kava for the first time
Go to Suva, the capital of Fiji
Experience Cava Bar in Suva
Vlog in a rural village where the sunrise was wonderful
Overcome a near-death on the Levuka downhill
Fiji Cava factory
The words local told made me think about my travel
Vlog about my last days