[14/03/04~14 (D+926) Italy/(to Milano)] Heading to Milano
Italia is famous for pizza and their passion. What would it cycle like in Italy?
As I crossed the border, I faced a pervert man on the highway. I was not sure, but I guessed he was making fun of me. Fortunately I was cycling on the downhill so that I didn't need to see clearly. The first experience in Italy is?not good.
By the way people in Italy drive really crazily that I feel like I will be hit soon. Also, people don't like to greet and smile at the stranger. It is totally different from France in my experience at the beginning.
One of interesting things in Italy is that I can find a bicycle shop easily, and I can see so many cyclists who wear nicely. I hear later that many of Italian love cycling although many cyclists are killed by a crazy car every year.
Ah, another interesting thing is that there are so many CCTV.
There is a short cycle path. It seems it was railway, I guess.
I cycle next to the sea.
Italian window
I had met Italian couple in Zanzibar Island of Tanzania. He said he has a holiday house after the Italian border so that I can take the rest in his house. It is my first time to stay alone since I started traveling. Every time I stayed at somebody house or hostel.
Two days ago, it rained a lot that my stuffs were wet. So I do laundry and wash my panniers.
The town, Diano Marina, is really small. I find a bit big super market, so I buy some food and Italian beers.
Oh, I love meat. hahahaha. I cook beef, pork, chicken and etc. I wish I have Korean spice paste. Anyway it is so good to stay quietly alone.
The town is so small that it takes only 5 minutes to cycle in the beach.
Right now it is too cold to be busy. But I guess in the summer here might?be so busy. Even the town has the machine of information.
It is the view from the house where I stay.
As I stay longer, I find that I feel lonely and bored. There are many motor trucks in Italy. It makes too much noise.
The house doesn't have an internet, so I go to a cafe to use WiFi. But this is too small town that the cafe closes at 7 pm.
I feel bored, and I think I have to hurry for the visa. So, I start cycling again after week. In the morning, the market opens on the street.
The statue of children carry the flower.
So many cars drive badly in Italy.
Congratulation of 25,000 km
The area I cycle is so clean that I can see fish under the water.
The sun is enough good to raise the plants. The bottom is sun panel.
I feel so scary because of too many stupid drivers that I decide to cycle on the side walk.
Even on this small path, I cycle.
And my pannier is broken. OH!!!
I tight my pannier with a strap.
I take a small road at a small town to find a place to set up tent. I see one old lady. I show her Google translator to get a permit at her garden. She gives me oranges and says to me to wait her daughter. She asks me I am not scary to cycle as a solo woman. After a short talking, her daughter shows up. They say to me "No" for setting my tent at their yard. It is already around the dark. I start begging. Finally, they say there is their empty farm over hill that I can set up my tent over there.
To do Wild-camping is not on my purpose, but anyway it is happened .
After scary night, the lovely morning comes again. I dry my wet tent.
The morning is quiet. I can see the castle on the mount. People are enjoying fishing from the early morning.
No way… This easy flat way is blocked! I have to climb beside that castle!!! Many of Italian road are under a construction.
My fresh morning is ruined by climbing hilly mount. Now my morning is turned to hot sweaty one. It might take only 5 minutes to pass the road, but because of the construction it takes over one and half hours.
My efforts are rewarded.
It is sunny, but it is not enough hot to take off the jacket. I heard that since I came to Italy, it has been so nice weather.
Isn't it so clear?
The sign of EU on the road is similar. When I just came to Europe, I didn't know why there was a red line on the sign. Now I know that it means that the meaning of sign is finished.
Sometimes the sign is a bit different in each country. For example, in Spain and France a blue color of sign means main high way which I must not take and a green means a secondary road I can take. But in Italy the color is opposite that I must not take the green sign's road.
I think they don't need the sign for this situation on a bicycle path.
It is so clean that I can see the feet of ducks.
I see some castle while passing a big city. It looks so nice, but when I enter to the inside, there are not much things to see. Now I got why they don't ask the entrance fee.
There are so many small cars.?This car looks so unique!
I take another small road for a bicycle path. I guess it was a railway.
There are chairs I can have a seat and eat something. It is really good that I can turn the chair to avoid the sun. hahaha.
I reach to Genova which is too big city and makes me hard to cycle. I think Every European country has different way to open the window.
This car is so popular in France and Italy that I have seen very often. The best part of this car is that the top can be opened like a sports car.
There are many camping cars at some place. I don't think they are on a holiday. They just live like that. I don't know why they live like that. Unemployed? I saw like this in France as well.
I can't find a proper place to sleep, because I have passed a big city. So, I cycle around the sunset. I set up tent in front of flats after getting permit from a local people. Later one of them gives me pizza. It is my first pizza in Italy.
I woke up 5 am and started cycling on 6:45 am. I have to pass one mount today to go to Milano.
Before the noon, I reach the top. After top, it is a gentle downhill that I enjoy cycling.
The above picture is the Italian parking lot.
A few days ago I was thinking which route will be easy to pass the mount. I saw the river on the map, and I thought it would be not much hard if I cycle beside the river. My decision was right that it was easy to climb.
Here is my food today. haha
Bread 0.7, Banana 0.7, Cheese 1.2, Ham 2.14, Bread 1, Olive 0.4, Snack 0.8 Euro.
My bag is full of junk today as well with cheap money, which is 6.75 Euro.
I think I can get Milano today.
While I cycling fast on a flat road, a car stops and greet at me. He, Stafano, says he likes cycling as well. We talk about a bicycle, and he says my seat is not good, because the nose makes the pressure. He says he can give the seat which doesn't have the nose.
I am so curious that I want to install. But a seat post is too long for my bicycle. He says he can cut it, and he would like to invite me to his family house.
We go to his house first and take bicycles to his workshop. He is selling many products by demanding from the company.One of the products he is selling is the seat.
In the night, I have Italian meal with his family.
His cute baby
He gives me iPhone holder, buff and lubricants as well.
The seat is really special in that it moves left and right a bit while pedaling.
It is said that knees and back will be better and the seat will help to make the speed faster. I was told that I need time to be used to. Usually brooks seat which is so popular is over 100 $, and this one is over 215$. Much expensive.. wow…
The name of seat is un-saddle
Here an explanations is.
http://www.dimarusa.it/un-saddle/welcome.htm
I feel so weird and funny with this seat at first. I am curious about my looking from the back because of moving seat. hahahaha.
Before entering Milano, I smell of sweat from one guy who carries many stuffs on a bicycle. He suddenly stops and looks at the rides at the sunset on a bridge. I guess maybe he has a son or daughter whom he wants to take to rides. That's why he looks that rides for a while… maybe.. I guess… Life is too rough to someone sometimes.
Chickens welcome me to Milano.
Before entering city, there is some weird thing I see. One girl stands on main highway. I am not sure she is a hitchhiker, because she ?doesn't do thumb up and doesn't have a backpack. After that girl, I see another two girls who wear short clothes. Even they have a chairs on the road. This time I am sure what they are doing. I guess their job is a prostitution.
There is flood on the main road. People have to cross the river in the city.
I get Milano before the dark, but it is too big so that I have to cycle in the night.
There are many motor cycles.
The massage shop in Milano looks different from other country. I feel weird about Milano.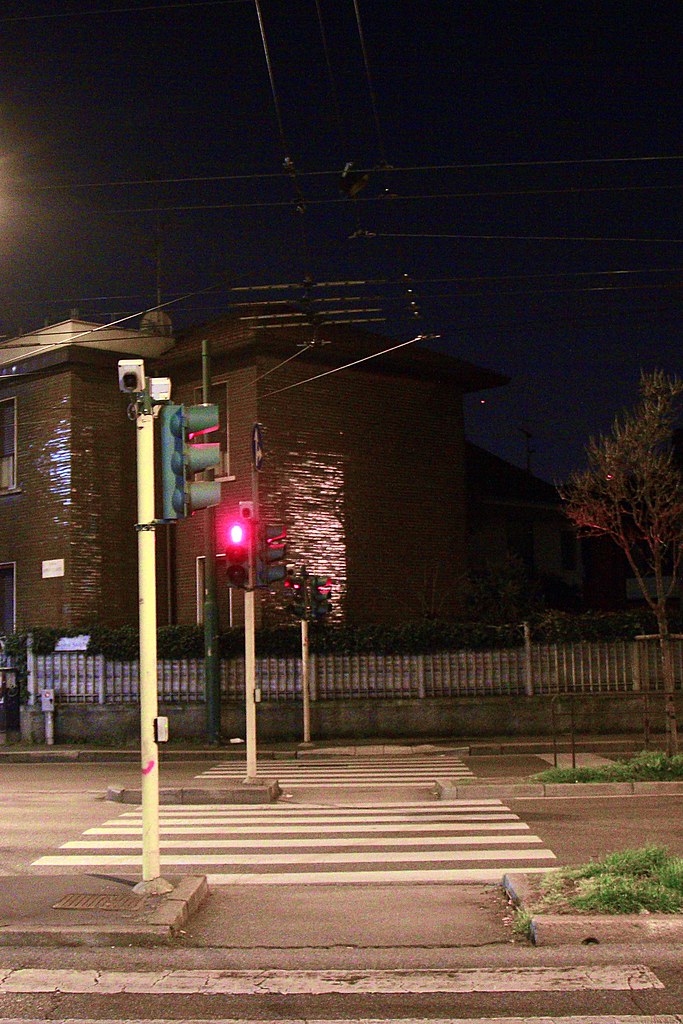 I had seen that people in Spain and France usually didn't wait traffic sign and cross. But here the camera is! hahaha.
I arrive after 9 pm to my destination.
Yeah, here Milano is.