Before pedaling again in the morning, I bought foods on the market in Murgab, last city in Tajikistan. I had cycled with other cyclists more than one week. Although it was a really tough road, I didn't feel hard because I shared a hard time with them. But I felt sorry that I was too slow. So, I decided to cycle alone. Being alone first back, I was so excited because it was like to get freedom back. But just after one day, I became lonely and I missed them already.
It was very cloudy as going between mountains.
It was really difficult to cycle because there was a strong headwind.
When I turned back, I saw two cyclists coming. Other cyclists whom I cycled together had told me they would stay one more day in Murgab. I thought maybe some of them changed their mind. But once two of them close to me, I saw it was Danish couple which I just met yesterday.
I was very slow that after saying hello to them I saw they disappeared into cloud mountain.
It was around 4,000m (13,123.36 ft) above sea level that the weather was quickly changed around mountains. I was a bit afraid if it rains suddenly a lot, where to hide. There were not even cars passing. I saw only one or two cars from both ways per one hour.
After passing many mountains next to the road, I could see blue sky again.
This animal was running around. I was wondering what they were eating. They never came near me.
The sky was overcast at late afternoon. But this time it looked serious.
I couldn't see front clearly. Soon suddenly lots of rain came. I just wore rain jacket quickly. I really didn't see any tree or roof today that I was not sure where to sleep.
What a lucky day!!!! I found the best spot to avoid heavy rain. If there was the downpour, I would be swept out. I hoped the best place was not turned to worst place. It was my first time that I put my tent just around the road. If I had wild camping before, I usually tried to hide from people.
I didn't see any house today that it was a really empty place. Even there were not many cars passing today. If there were no people, it would be safer.
I cycled hard today that I wanted to feed myself. I put all kind of vegetables I had and dried soy meat into the pot. Dried soy meat was really good because it gave good energy and I could carry for a long time. I bought some Kimchi stew sauce which didn't have Kimch taste. However, it was really good dinner!!
When I opened my tent at the next morning, I was so surprised. I didn't expect that there would be snow in the night.
It was the really cold night that I saw icicles hanging on my tent.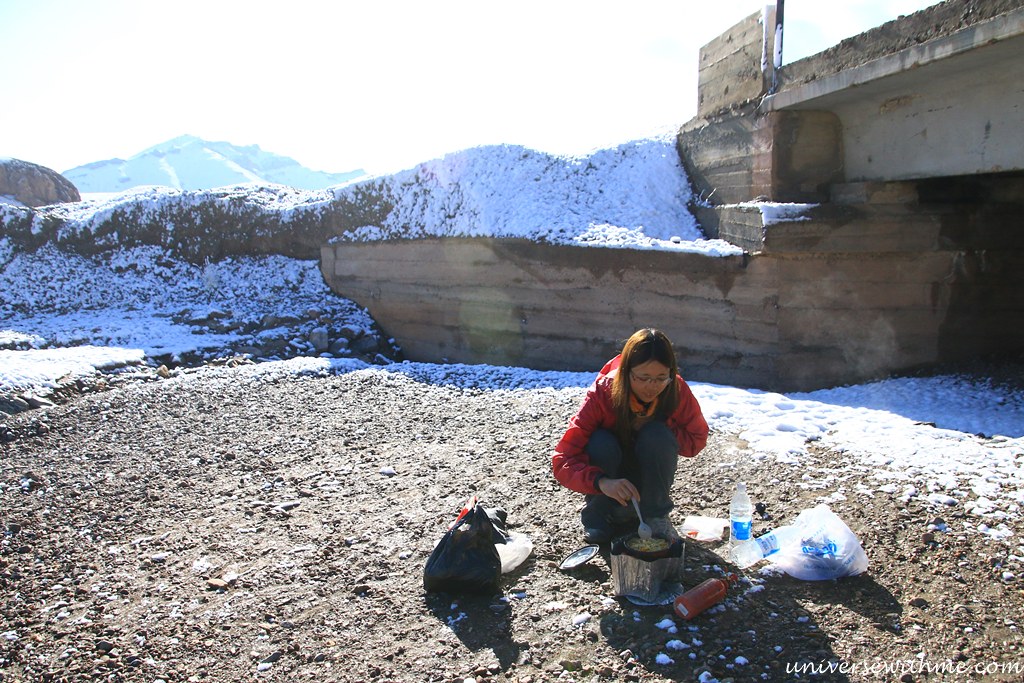 I usually didn't cook in the morning. But Pamir was an exception. I usually had oatmeal in the morning. But sometimes I put vegetables and others into oatmeal because I wanted to heavy meal to have high energy on the road. The taste was good. To be honest I would never have breakfast at home like that. It was emergency breakfast. I usually like to have oatmeal with yogurt, milk, and fruit.
The road was covered by snow that it was really wonderful morning.
Today was really important in my cycling trip.
I would reach to 4,655 m (15,272.31) above sea level. It would be the highest altitude in my trip. So far the highest place by my bicycle was in Peru, 4,335 m (14,222 ft) above sea level.
The sign was saying uphill would start to the top.
At the beginning, it was not bad. As going higher, the scenery was amazing. But it was too difficult around the top. I pushed my bicycle but the road was so slippery that I fell off from my bicycle. It took almost half an hour for last 1 km (0.6mi) to the pass.
After slippery steep uphill finished, I checked the altitude with my phone. It was higher than 4,655 m (15,272.31) above sea level. It meant I was on the top of the mountain. I was so happy that I jumped to reach to a higher altitude.
I was looking around to enjoy the moment. I was curious if I go up the hill next to the road, what kind of view I would have. If I was with many other people, I would not think about going up there because I would arrive already too late to try something. But this time I was alone. Loneliness was definitely the worst con to be alone. But freedom was the best gift to be alone. I decided to go up to check it out.
It was inclined steeply upward. So I walked in zigzag. I had slight headache because of high altitude. When I was near the top, I looked down. My bicycle looked like a little dot.
I thought it took around 30 minutes to the top. The scenery was just fantastic that it was so far one of best scenes in my Pamir trip. I was wondering that sometimes there would be water flowing.
I was curious that how much altitude would be on the top of other mountains and there would people ever passed in the past.
I could see the road I would go down soon. The mountain next to road looked like Mars. My decision to go up to the hill was good that I could enjoy all this beautiful scenery. Now I had to go down to cycle on that beautiful Mars roads I was looking down.
Sometimes car passed with lots of coal(?). They dropped small coal. I was wondering that I could use later. But I was lazy that I didn't pick actually.
I took some water from the small stream bank on the way down. I bought many bottles of water in Murgab but it was not enough for cooking. So I decided to use water from stream bank to cook.
After downhill, I saw the hotel sign. How would hotel look like at middle of nowhere?
This was Pamir Hotel!
There was a washboard whole day that it was difficult more than a gravel road. I had to cycle on the edge. Some edge was really bad that I had to move like from left edge to right edge time to time.
There was one funny thing that I kept seeing other cyclist's tire track. It was a very dry area that the track stayed longer.
In my memory, Pamir was the driest place in my trip. I had big cracked lower lip vertically. Whenever I ate or laugh, there was bleeding coming. So, when I was laughing while cycling with other guys on wakhan valley area, I heard "Hey you are bleeding". Actually, that was the biggest cracked lip in my life.
I had wide thumbs and when it was dry, I had a crack on both edges of thumbs. If I stayed most of the times on the inside, it would be no problem. But the thing was I was cycling that I had to use my thumbs quit lot while packing, holding, camping, and so on. So it was a big pain.
I would like to give one advice to people going Pamir. People should take a good lip balm which they can find only in a pharmacy. My Nivea lip balm never worked. Also, bring some good cream from a pharmacy for dry skin. I was not the only one suffering from dry weather, but also other travelers suffering, too.
I kept thinking where to set up my tent two hours before the sunset. Then I found some place I could hide from the road. But I guessed car could see me from far away or under the road. But I believed that it would be difficult to find a better place.
The land was a bit leaning and there were many rocks that it was not such a good place for camping.
I cooked some weird food. Usually, when I cooked, the taste was weird. But after five minutes eating, tongue got paralyzed that I felt it was such a good food.
The camping spot under the bridge was really good because I thought nobody would see me and there would be no people around. But this camping spot was just so so that I slept also so so.
In the morning, I cooked again some weird food which made myself think so tasty after five minutes eating. It was like to meet weird people. When you met some weird people, you didn't want to talk. But as talking more, you realized it was a good person. My food was like that.
I found some abandoned house on my way. I was thinking it would be warmer if I slept here. But maybe it would be possible that some people could come. So my last night camping spot was better.
It was such a blessing to cycle in Pamir. People said No pain, No gain. But actually, I gained more than my pain in Pamir that I felt lucky to be out here.
Finally, washboarding was finished. There was endlessly long fence just next to the road. I guessed that there must be some natural resources.
I was wondering where a nomad was going in the middle of nowhere.
Some backpacker told me he wanted to hitchhike from Murgab to Kyrgyzstan. But I doubted it because there were not many cars although it was the only highway to Kyrgyzstan.
There was the huge lake, Karakul. The color was so beautiful. I was sure that there would be many travelers camping and swimming when the weather was hot enough. Although it was beginning of September, it was too cold to swim now.
Amazing Karakul Lake
After Karakul Lake, there was a small village. I was happy to see civilization after three days wild camping. I went to some guest house for lunch, but it was around 5$ for the meal. One night was around 15$ without running water. It was almost two times more expensive than other guest house where I slept in Alichur, other village. Thank to Lonely Planet, although the guest house didn't have any running water and more expensive than other guest house, it was already full with other travelers.
I wanted to find grocery store first that I was walking around. Then I found some small cafeteria.
It was local people's house but two times cheaper than popular guest house's meal.
I melt my body with hot tea, warm bread, and good meal. It was just around 2 pm that I was not sure I should stay in the village for one night or cycle more. Maybe it would be better to cycle that I just bought something from the grocery shop. Actually, it was very tiny grocery shop that I could buy some snacks and pasta.
There was a very strong headwind that I felt cycling was wasting time in the afternoon.
Because of too strong headwind, I didn't move much. I decided to stop and look for a place to sleep. Then I found this place. It was not possible to set up inside, but it would be very cold to use the only sleeping bag. However, I could hide from the road perfectly and strong wind.
I kept thinking what to do and checked around. But the only good place was just next to the road.
It would be my first time ever that I set up my tent just beside the road. The car could see me so easily. I decorated my house with the horn of Marco Polo sheep. Because of strong wind, the tent was shaking strongly and made a big noise, which could make me scared.
But tonight, horns of Marco Polo sheep would protect me.
At the next morning, I saw the amazing sun. It meant I survived! To see the sun from my tent meant I was still alive that I should thank.
I was busy with preparing breakfast.
I cooked oatmeal. I wished it stayed longer on my stomach.
I could see lake again on the way to the border.
On the middle of steep uphill, I looked back to see my path and I was impressed. I was so happy to realize all my path was so beautiful.
After one pass, I had some snack because I was already hungry. Also I got some water from the river.
Going near Kyrgyzstan border, I met the cyclist which I saw at the guest house yesterday. I thought if there was no strong headwind yesterday, he couldn't catch me up. Um… really?? Nah…
I was a bit lonely to cycle alone after cycling with many other guys. So I was happy to see another cyclist on the road. He took a nice picture of me.
People loving adventure and traveling should visit Pamir maybe one day. If there were people loving to travel by bicycle, they must come here in their lifetime. This was an amazing path. However, it would be difficult for a beginner that it could be hard to enjoy. So after having some experience, it would be the perfect place to visit.
Here I came to the border. Tajikistan would remain in my memory as a special place. I had such an amazing time with other cyclists, saw beautiful nature, and learned how to be brave on Pamir Highway. I felt thankful that I could pass here without the problem. Now it was time to move to the next country. Usually, at the border, I was nervous and excited. What kind of thing would happen to me in the next country? That's the biggest question on the border always.
Okay let's move to the next country!
My Cycling Route and Details in Tajikistan
Cycle Distance – 1,337.77 km (831.25 mi)
Expenditure = $780
(Included-Visa $75, renting flat $150)
($1=7.86 Somani)
[2016/07/05~09/07 (D+1834)]