Eventually I crossed Tajikistan border, which I was waiting for a while. To get a visa was so easy that I just applied E-visa on online. I had to get Pamir Permit (GBAO permit) too. It was not difficult at all that I applied it at the same page of E-visa.
I was so excited to come near Pamir Highway that I posed like pointing sign board of Tajikistan. Pamir Highway was the road connecting between Tajikistan and Kyrgyzstan, which was popular for its beautiful high mountains.
It was really humid hot that I wanted to sleep at the inside. Big hotel was pricy that I asked local people cheap hotel.
What I found was just next to school. Teacher was kind that she showed me around school and told me it was supported by some Korean organization.
At the next day, local people selling fruit welcomed me with greeting.
Of course, Tajik President welcomed me too everywhere at a small village or big road with his picture.
Capital was not far from the border that I arrived at the next day. Tajik building was similar to Turkmenistan one.
The capital looked quite clean and well organized.
Dushanbe was the place where travelers stopped to prepare going to Pamir Highway or to take the rest after traveling in Pamir Highway. Also many travelers from other country came first to Dushanbe by flight to start traveling. So, it was the capital of travelers for Pamir highway.
Many travelers stayed at Green Guesthouse. But I usually didn't like the hostel where every traveler goes. So I chose the hostel just opened. The price was the same and it was so close to Green Guesthouse. But it was way more luxury with three floors. The worker was so young.
One of them told me it belonged to his grandfather for family house but they asked him to change to the hostel.
A few months ago, I saw the information on online that it was possible to get Chinese visa in Central Asia. But when I visited Chinese Embassy in Dushanbe, I was told that they only gave local people visa. I didn't want to fly to some country to get visa after Central Asia.
I asked other travelers how they got Chinese visa. Some of them told me they sent the passport to their country. I decided to do the same thing that I sent Korean travel agency by DHL. It would take two weeks to get back my passport with the visa that I wanted to rent a flat for staying.
I found the place with Airbnb. It looked too old. The building which was built during Soviet Union was usually like this.
But the inside was very modern. On the picture, there was a cat waiting to kill me. The story of why I stayed with the cat was horrible. At the second day night, I was woken up by some noise. I turned on the light and saw mouse playing with curtain in front of me. I couldn't sleep at that night.
I told the landlord that it was too scaring to stay. He brought me his mom's cat which usually stayed at her yard and street sometimes. After cat coming, I didn't see the mouse again.
There was a laptop desk and electricity was included on my renting fee. I paid only $10 per day. The cat liked to play with me. Especially when I was preparing the food, cat mewed to ask playing.
The problem was the toilet for the cat. I couldn't buy the sand for cat's toilet that I got the sand from outside and put into some container. Cat's pee and poop were smelly that every day I had to change it. The sand was so dry that I tried to use other kind of sand one day. My dear cat scattered the sand everywhere at the toilet at that day. It meant my boss, the cat, was angry at me for sure that I never used that sand again.
The landlord said he would go to valley with his family and asked me to go together. There was big park and it had nice swimming pool.
In Korea, when people went to valley for a picnic, usually they left watermelon under the water. So it was funny to see Tajik did same thing.
My hobby was to collect stamps from each country that I went to the post office. One old man was writing long letter at the post office. I was wondering where he sent and what kind of story was. These days people didn't write the letter with hand that it was very unique scene.
I wanted to meet local people that I sent them a message through Couchsurfing. One of them invited me to a concert. People wearing beautiful traditional clothes welcomed visitors at an entrance.
Tajik traditional clothes were very colorful and their instruments were unique.
They did not only sing, but also played. Although it was in local language, I could understand the story. "When this drunk guy would wake up and work."
Most of Soviet Union countries loved strong drink and they usually had problem with it. It seemed Tajikistan was having similar problem.
There were many travelers in Tajikistan. I met a few of them which I was talking to on online before and we had drink together.
I was preparing many things before going to Pamir but there was one big problem. My Schwalbe tire, strongest one in the world, was broken that I threw away one month ago and ordered new one to the hostel in Dushanbe from Germany. Guesthouse didn't put a signboard at the outside that a delivery guy thought it was something wrong address and kept it at the post office. Then after week, they sent back to Germany. In Dushanbe, usually guesthouse didn't put a signboard at the outside that it looked normal house.
Now I had to cycle toughest road with $3 tyre. There was no any good bicycle shop that I just bought cheap tyre which cost $10 for emergency.
After two weeks, I got my passport back with Chinese visa to DHL office which was the safest place to get a mail.
I tried to concentrate on blogging, but it was hard. I had very cozy and nice desk behind living room and dear cat liked to sit next to me sometimes. I was confused that she might be a dog. But I was sure she was a cat when she tried to attack me.
In the night, where there was no people at outside, I went out with her but I had to be careful to not lose her.
Her favorite place
Finally, it seemed everything was ready that I had to say good bye to the cat. I felt excitement to have adventure but on the other hand I was sad to leave her.
I thanked to her to protect me from mouse, become my friend, and not attack me too hard.
There were two roads to Pamir Highway; one was in the north and the other was in the south. North was known for a gravel tough road and south was known for a good paved but longer road. I liked challenging that I headed to the north road. The pavement was still quite good after Dushanbe.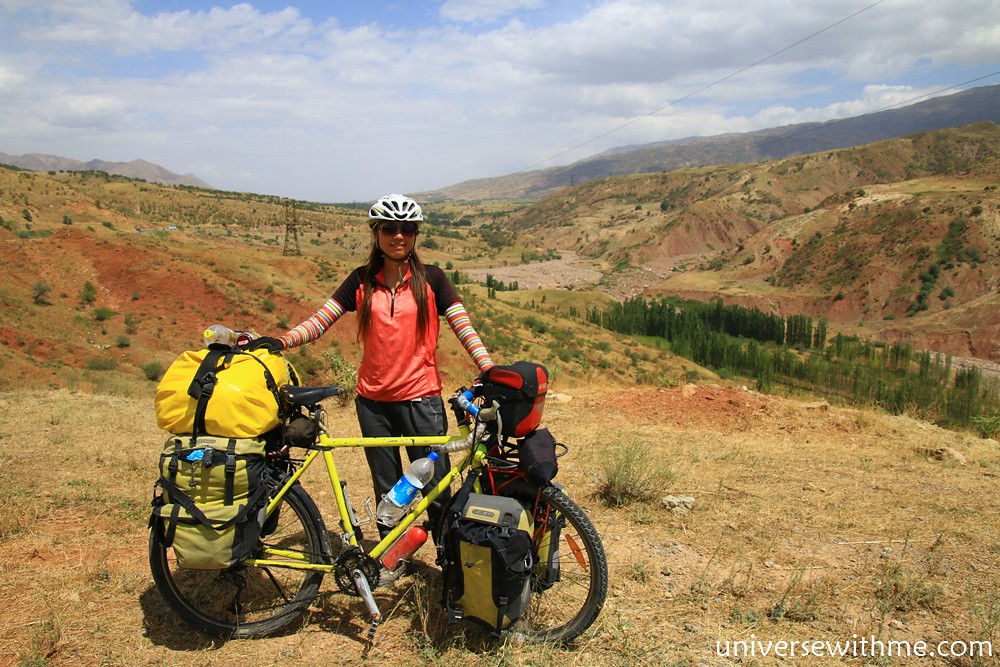 The landscape was amazing already.
Specially the valley was so beautiful.
Later some road became unpaved but it was not bad except dust. When I was passing villages before the sunset, two times children threw stones at me that I was upset. I had heard that children were wild here. I didn't feel good that I decided to not ask the place for my tent at those villages.
At the next village, I went to a small road and asked local people the place to pitch my tent. Luckily they were kind to me that I could feel safe.
In the morning, I took the picture with them.
I printed pictures as a gift.
Once I was on the road, I saw beautiful sunshine view that I must stop to enjoy.
The road became very steep and tough to cycle. Sometimes I had to share the road with nomads.
Although it was difficult to cycle, I liked it because I could see stunning scenery.
Around lunch time, I arrived at the entrance of Pamir Highway. Police checked my passport and Pamir permission. They asked me a copy of my passport. I had a few copies at every bag that it was so easy to give them. I had plov just behind check point later as lunch.
It became very difficult and sometimes I had to cross water. It was not deep but I was afraid of falling off because the rocks were all different shape.
The scenery was just fantastic though.
It was so crazy to cycle. But there were small up and down hill endlessly that I cycled so fast on downhill to have speed on the uphill. I had already problem with my front bags that they fell off from my bicycle. So I tied them with some rubber band.
Some road was just insane that it was too difficult.
I cycled in the night for one hour because I saw some hotel on the map. There were two guards at a check point before entering into a town. I was not sure I would be allowed to go into. But it was no problem after showing my passport. The hotel was very simple and cheap; 3$. I arrived late that there was no such a food I could order except the soup and bread. I was really happy to take the shower after meal. Bed was old that I used my sleeping pad and sleeping bag.
At the next day, I drank tea, which was very common in Central Asia. I bought many emergency foods before getting out of the town.
The town was so clean with well paved road. It was surprising to see after cycling on crazy bumpy road. But now I had to go back to my adventurous road.
I came back to my road. Local people were moving with their livestock.
Little children were on a donkey and moved together with their family. When I was at that age, I didn't do anything except making the problem that I respected them.
After cows passing, it was turn for sheep and goat.
I was confused about how to figure out which a sheep and goat were. Someone told me a sheep had round butt with fur while a goat had thin tail up. After hearing, I usually looked at their butt when they passed. Sheep butt looked so funny and cute when they moved.
I was always wondering what the tip was about to not lose their livestock.
Finally, it was my turn to pass the road. It was a bit scary to cross the road because I felt like it would be full of poop in the water that it would be worse if I fell off.
I was so proud after crossing the road without any problem.
Yesterday I saw some silhouette of two cyclists on the other mountain. Here I met them on the road today. The left was Kevin from France and the right was Kristian from Denmark.
I cycled together with them at the beginning. Later I told them I was too slow to cycle with them that let's see next time. But they told me let's cycle together.
(Picture from Kevin)
Kristian liked to take the picture often that I could have time to catch them up while he took the picture.
(Picture from Kristian)
We had lunch under the tree. Local people came out after seeing us and handed yogurt. But I was afraid of eating that I didn't have it while they liked it with saying it was so fresh one.
After the lunch, the road became very tough to cycle that I fell off often. The gravel road made me so hard that if I was slow, I must fall off like on the picture.
(Picture from Kristian)
It was very dry area that when car passed, it made dust around. Most of cars were a taxi with full of passengers.
(Picture from Kristian)
Kristian and Kevin disappeared later and I kept falling off. I fell off from my bicycle more than 10 times. It was new record in my trip that I had never fell off this much. The gravel road was so steep that suddenly tear came out. Physically it was too tough to go through. My mind became weak, too. After some crying, I felt better that I tried to keep going.
After crazy gravel uphill road, it was a bit easier to go up and I saw two guys again. I didn't know that they were waiting me.
(Picture from Kristian)
We cycled a bit more and then set up our ten next to the road. If I was alone, I would be too scared to do wild camping. After cooking dinner, I went to sleep.
I was excited to reach to the top in the morning. The road was way easier than yesterday that it was smooth.
The top was 3,252.8 m (10,669 ft) above sea level. We shared happy moments together.
On the downhill, there were big gravels. I cycled fast on it, but then I fell off badly with my knee. I screamed out so loudly that Kristian thought my bone was broken.
After five minutes, I could feel my knee and everything was alright.
After that part, the road became easy.
(Picture from Kevin)
I preferred the downhill's scenery more than uphill's one that it showed just gorgeous nature.
It was really worth to cycle through the northern part to reach Pamir highway.
(Picture from Kristian)
There were some houses on the way and some children played on the road.
After the top, we kept cycling on downhill. On left of the picture, I could see downhill which I would go. I thought that if I came from opposite way, it would be way harder.
I caught local people and sheep which I saw on the top.
After long downhill, finally I came to the bottom of the mountain.
I thought it looked so good place for camping, but it was only noon that we kept cycling.
We came to a small city. The left restaurant was the one we had lunch. Although it was little city, many people and cars were there because it was junctions where north and south road met. Many travelers and local people were taking cars or getting off. There was a very nice grocery shop that we had some shopping for foods.
Near school I was a bit afraid of passing children. They were a bit naughty.
We set up our tent next to road again and cooked dinner. Then we went to sleep. Around 12 am, my stomach was a bit weird that I woke up to go out for wild toilet. But the pain on stomach didn't stop. It was getting worse and worse that I kept going out for a toilet. I vomit too. Diarrhea became worst that every 30 minutes I had to go out from my tent. It was most stinkiest poop in my life ever and later only yellow water poop came out. I didn't know why I was only sick while other two guys were okay. We had similar food and drank same water.
Actually Tajikistan Pamir Highway was notorious for stomachache that many people had pain on their stomach. I was not exception that I had too much pain.
Usually when the sun came out, I was so excited to start my day. But I was too suffering to enjoy my day that I had to go for a toilet still. I told them I would take some rest at my tent and cycle later that they should start cycling without me. After Kristian gave me some pills, they left. I just lay down on my tent. But it was too hot to stay on my tent later that I decided to start cycling although I had to keep going out for a toilet.
(Picture from Kevin)
I thought it would be better as time passed. But diarrhea didn't stop at all. I found the restaurant where I could have breakfast. But I could not eat well that I just used a toilet a few times more and lay down on the restaurant.
I tried to push myself, but It was too hot and the road became very difficult for cycling. I really didn't have any energy to pedal. I decided to go back to the city where I had lunch yesterday to visit a hospital. I tried to hitchhike about two hours but all cars were full with passengers that there was no any empty seat for me. I had to keep going toilet when there was no car. When one car stop to ask me I was okay, I asked them if they could call ambulance. But they told me there was no such a 911 I could use.
I had realized that it was not possible to hitchhike. So, I just tried to cycle. But it was really impossible later because I was too sick. I just lay down on the edge of the road. I couldn't get the lift to the hospital nor had energy to keep going. The road was narrow that when car passed on both sides, it would be dangerous for me. But it was too toughest road to get any help. There was nothing I could do except lying down next to the cliff. What a worst day in my trip….