I was so excited to enter a new continent, South East Asia. Always the first country in a new continent became very special cause everything would be a new thing. I entered the country after the dark, so I wanted to go to a hotel directly. But first I did need to take local money from ATM. I was cycling around the border town because every ATM's limit was really small under $100. I would lose $10-$20 every time I take money. So I usually take $200-$300 in one time. I couldn't find any ATM which can give like $200. I didn't want to stay in a new country on a late night. So,  I just gave up and took little money.
I was really hungry but the only thing I could buy was hot porridge in a hot humid night. Later, this porridge became the one I had eaten very often in Vietnam. They usually put pork ground meat, fried onion, and fried garlic on the top of the porridge.
After having dinner, I was looking for a hotel. Usually, if I paid $15 in a small city, China, I could stay at a quite modern clean hotel. But it was not easy to find the same quality hotel at $15 in Vietnam. I ended up at the old rusty hotel.
When I was looking for ATM, restaurant, and hotel in the night, I had seen many young guys on a scooter. Actually, many of them looked like teenager gang that I was a bit scared. To be honest, I became nervous in a new country as soon as arriving sometimes. So maybe it looked more threatening. As traveling in Vietnam later, I had realized that the country looked very young with so many young generations on the street.
I had stayed at the border town for a few days and enjoyed every new culture and food. The first thing I liked in Vietnam was fast internet. Internet was slow in China where I traveled more than 5 months before coming to Vietnam. Chinese government blocked so many websites like Google, Youtube, Facebook, and even Korean websites. So I had to use always VPN which changed IP address. It made internet speed worst. So I enjoyed so much freedom in Vietnam online. As I heard, Vietnam controlled the internet, too. But as a foreigner, I could use any site. So I didn't have any problem.
Suddenly I was so welcomed by the local people in Vietnam. I had a dark skin color and I had been tanned lot on a bicycle. So most of the people cannot guess I am from Korea. Some Vietnamese thought I am Vietnamese. But they didn't care where I am from. They just welcomed me without caring about the skin color that I was so happy.
To be honest, I was upset several times in China cause some local people welcomed too much Caucasian and ignored me, which I've never experienced in any other countries. Unforntatuely, some people in my country would be similar to some Chinese. However, I felt finally I was treated the same as any other skin color people here. I had enjoyed the local people's greeting while cycling.
As I started cycling in Vietnam, every scenery was interesting such as what they wear and how they live
Many houses along the road looked like this. The first floor was empty and people lived on the second floor. I was wondering how their house looked like inside.
There was a boy cycling with an eagle. He let me take the picture kindly.
I could feel I was in South East Asia. Everything was covered with green plants.
And I was covered by sweat all the time. I couldn't use suncream because of too much sweat.
It was hilly near the border. But then later the road was pretty flat.
There was one thing I really liked about Vietnam was their hat. It looked so practical and beautiful. I wanted to buy it even.
There was another thing I liked in Vietnam was cycling between paddy field. Yellow green color made me so relaxed and feel peaceful. In Northern Vietnam, they can harvest two times a year and in Southern Vietnam, they can do three times. It meant Vietnam has beautiful color always.
As reaching a big city, I could see more people on the road. There were so many motorbikes but less cars on the road. So I had more space on the road that I felt safe to cycle.
But when I was arriving Hanoi, Vietnamese capital, suddenly too many motorbikes and cars that I didn't feel safe anymore.
Actually, I didn't have the plan to go to Vietnam cause I read from a famous blogger that Vietnamese cheat lot. This was an article I read; WHY I'LL NEVER RETURN TO VIETNAM I do hate local people cheating me too much often. I've been like more than 60 countries and so far only two countries (almost three) cheated me too much. That was Tanzania, Kenya, and Uzbekistan. Cheating is quite common everywhere but those countries did too much. For example, a bottle of water price was always different. So I thought it would be better to not go to Vietnam as the person hating too much cheating. But Vietnamese border was the closest one from where I cycled in China. So I decided to go without any expectation.
But I really liked Vietnam from the first day. And cheating was not that worse. If I felt it was overpriced, I could go to other shops or restaurants. I was worried about the traffic before coming to Vietnam. But I even did like so much about chaotic Vietnam Hanoi traffic cause I felt it was surviving game.
First of all, what I did in Vietnam was voting for South Korean president cause it was Korean election day. South Korea had several dictatorships at the beginning of democracy for over 38 years. But there were so many people always fighting to get freedom. They became the biggest inspiration in my life. After seeing so much sacrifice to get the right democracy in the recent South Korean history, I do thank so much to have it and I always want to keep this by voting.
Hanoi's night was really crazy with so many local people, tourists, cars, motorbikes and street vendors. I was surprised that I really liked this crowd. It was like a different world.
After voting, I met another Korean world cyclist whom I talked for a few years only on internet messenger. We always said the earth is round so if we keep cycling, we will meet one day. And here we really met. Hanoi was his last destination that he flew back to South Korea though.
I looked for the person to help me have a street food video cause to do with a tripod by myself was quite difficult. Then I found a local film group. One of them invited me to watch a documentary which she took. The U.S used lots of bombs when they invaded Vietnam. Unfortunately, there were too many blind shells even until now. Kids and local people in the village have been still killed by them. She went to a village to take a film about how people live there. But actually, her documentary was really stillness. She didn't change the camera angle often so it looked really boring as I didn't understand their language.
Since I loved filming, I've realized that every three or four seconds camera angles are changed to avoid boredom at the show or movie. But her documentary didn't change angle much at all. What I really surprised that it made me remember those scene for a long time more than a modern TV show. I remembered elder people eating dinner at their house and his neighbor came and play guitar. I really could say her slow documentary was memorable at the end.
After watching it, they invited me to have dinner together next to the river.
We made fire and ate street food which we bought on the way. It was really lovely night with them. It gave always a special feeling when I had a good moment with local people.
On the way back to the hostel, I used Grab motor taxi. Traffic was crazy that I felt like I was having the most amazing adventure to survive. Motor taxi was cheaper than car taxi and it was more fun. So I used to take it whenever I needed to go a bit far. Definitely, I cannot recommend it to the people who care about safety first always. It would be only good for people who like crazy things.
(Grab made in Singapore is like Uber in South East Asia. Grab was going bigger and even Grab killed Uber in Thailand. I thought it was like the Chicken game. Grab and Uber gave lots of promotion like free rides to customers in Thailand. After winning at the Chicken game against Uber, Grab didn't give promotions often and they increased the price. haha. It was time to monopolize for Grab in Thailand.)
There was one thing I was disappointed in Vietnam was that I couldn't see girls wearing a traditional white dress. I didn't know that they wear it for a special day. It was a misunderstanding from TV show. Luckily, I found a group of students wearing it. They were so friendly that they let me take the photo.
I was thinking if they come to my country, they would be extremely disappointed like "Where is handsome boys and beautiful girls which we saw in Korean Drama?"
I went to Thang Long Water Puppet Theatre with the people I've met at another hostel. On the left side, people played a traditional musical instrument and on the right side, people played puppet under the water. In the beginning, I thought puppet was moving by remote control cause I didn't know people were under water to hide and play puppet. It was really interesting to watch.
I really liked Hanoi's crazy busy street that I had stayed over the week. I usually liked to be lazy and do nothing. But I was so busy that I was always out of the hostel during my stay in Hanoi. Most of the times I came back late at night. So it was funny to see new people at the next morning cause most of the guests stayed only two or three days.
Ha Long Bay was a really popular attraction in Vietnam. But I was not interested in going it because it was expensive and I didn't want to go to too touristic place where I cannot feel much local atmosphere. However, I thought I need to do homework, having tour. So I went to a tour agency. They had a book about attractions with picture, price, time and so on. The picture of Tam Coc looked very interesting. Small boats were crossing a narrow river surrounded by gold rice paddy. I booked it with the guy I met at the hostel.
I usually didn't join a tour company that it was my fourth experience in six years of my trip. It was funny that the tour schedule was exactly the same as I had in Peru and Turkey. We must stop at the souvenir shop having a grocery store at the beginning and the end.
Also, the tour company put some places to stop, which was not much interesting. The reason was they wanted to tell us "We visited so many places" Tourism business grows bigger and bigger these days but the way tour had been all the time same.
So this picture meant tour company wanted to make sure "We visited several different places!"
My fav Asian Buffalo
After having lunch, finally, we went to river in Tam Coc.
They rent us a bicycle that we cycled into a green paddy. I really liked the scenery that it was a really good choice to come here than expensive busy Ha Long Bay.
I was curious about what he was catching. I had seen often men wearing that kind of hat. It looked really cool.
We took the boat where local people drove with their feet. Unlike the picture on the book at the tour agency, it was not gold, but green. I realized to cross gold paddy needed the right time. And of course, there must be photo editing on attraction book at the tour company office. But still, I liked cause the scenery was beautiful.
We passed a short cave too.
I had thought about the effect of tourism for a long time. I had concluded that traveling is a way to destroy, ruin, and steal local people's nature, economy, and freedom. As one of the example, many tourists like me took the picture and made noise at the attraction where local people worked hard for their lives. Imagine the shoe on the other foot. Every day you must go to the office, shop, or factory to work although you didn't like. But then there were people watching you working and taking the photo of you. They looked so happy and enjoyable to watch you while you only wish to go back home. Moreover, they made a big noise like having a party. It would disturb you so much. Also, these people had so much money that they didn't mind pay anything so they make the local prices going up too high to live for local people.
It doesn't matter it is a remote area or city or traveling by bike or car. All the time it was the same that we, travelers, bothers local people. There was lyric in my favorite Korean song "To live makes me feel guilty" 
So will I stop travel? or should other people stop travel? I don't know. I just think it is the time to limit foreigner visitors in every country, which will not happen cause money is the most important in this world than respecting someone.
After visiting souvenir shop again on the way back, the road covered with full of motorbikes. It was more than Hanoi. China had made air pollution from factories and many other things, so local people must wear a mask in many places. But here in Vietnam, they made air pollution right in front of the road that everybody wore the mask while on their motorbikes.
Just before leaving Hanoi, I decided to do another homework, taking the video of street food. I couldn't find the people to film me that I had to do with my tripod by myself. The guy who went Tam Cok together asked me what I would do today. I told him I will film the food. Then he said he can help me if I showed delicious local food. He filmed me having a few dishes. But some of them I took by myself later.
This dish was called Bun Chan and it was my most favorite dish in Vietnam. They cooked pork on the grill separately so it had barbeque smell and the meat was tender and chewy.
There were so many good foods and deserts I found in Hanoi.
Here is the video for you I made
And this is the post about the food and location
This was Vietnamese money. There were a few ATM I could take a bit bigger money like $200. Vietnam money was really high like $1 was 20,000 Dong. If there were too many zeroes, suddenly I felt expensive which made me save money. By the way, Korean money is high too. Usually, $1 is 1,100 WON.
After Hanoi, I started passing many villages and towns again.
I had cycled with Korean guy for a week after Hanoi.
This was my favorite scenery to cycle. Many small rock mountains were covered by green plants.
My gear shift was installed at the end of the handlebar. This was a very old fashion that no bicycle was built with this way except touring bicycle these days. The reason is it is not broken easily. I had also used it six years without the problem. But suddenly it didn't work. My gear shift moved down automatically and it made me cycle so difficult especially on the uphill. The problem of the end shift bar was it was impossible to find at the shop. People can only order it online. (I have met Shimano staff one day and he said they don't make it anymore even because it is too old fashion to make.)
I went to a bicycle shop on the street and waited to fix. The opposite side of the road, people were having the hair cut. After waiting for an hour to fix, he told me he couldn't fix. Then I found profer bicycle shop. He put some kind of tape inside to prevent from moving down. He said it would help temporarily.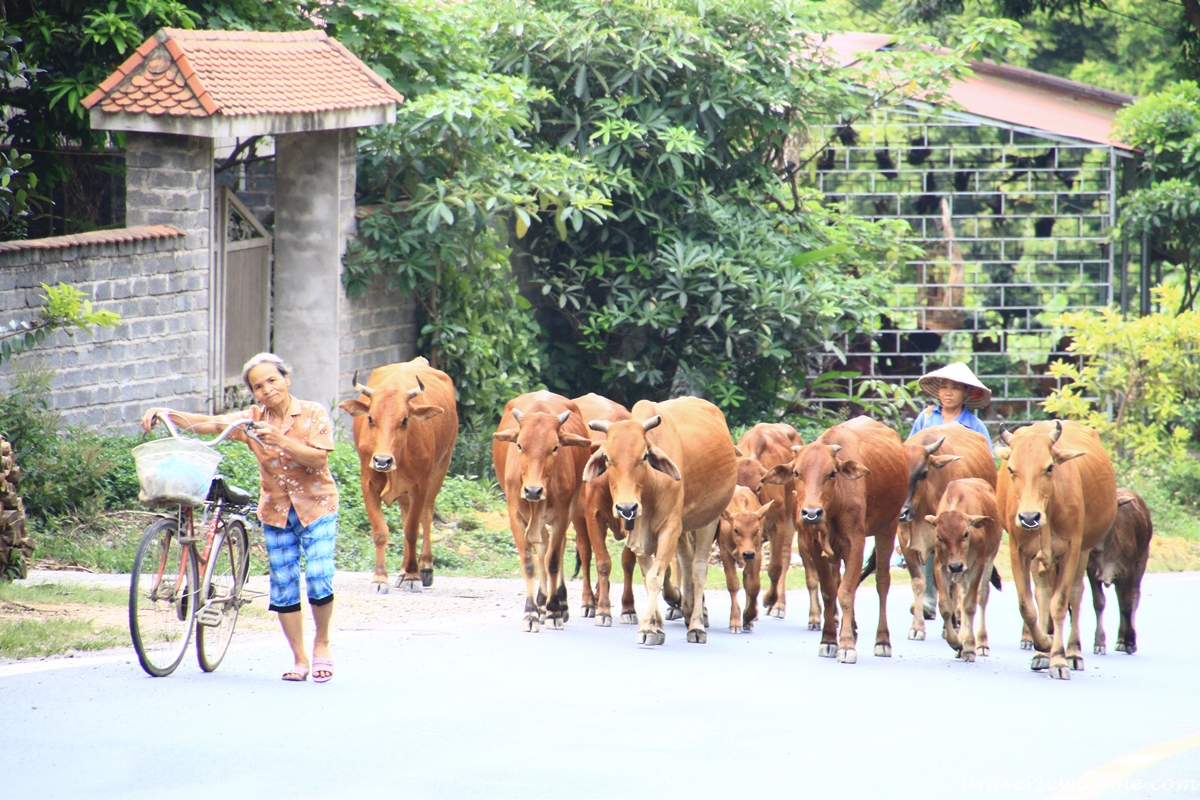 Everything was so green.
I ate noodle lots of times in Vietnam. This time chicken broth was so good. By the way, it was really hot and humid and there was no air conditional at the restaurants usually. So I had lots of sweat even during lunch break with hot noodle.
There was beautiful scenery on the top of the hill sometimes.
The video of the dowonhill taken by Gopro which is usually blur and colorless
Mai Chau was a bit popular among tourists. There were hostels and a few attractions.
It was a really nice waterfall to cool down the hot summer.
Another place to visit was the cave. But there were too many stairs that I sweated so much to go up.
Although it was a touristic area, I didn't see people much around. Especially the cave was really quiet without anyone. The best part was when there was light coming from the sunset. It looked like the cave was burning or there was magama flowing.
I didn't see burning cave before that it was a stunning moment.
Before the sunset, I had to hurry to go down thousands of stairs.
Stayed here for two nights.
Finally, I slept in the kind of local people's house. But it was used as the hostel. The real local people's house must be different. Although there was a fan, it was really difficult to sleep. I couldn't sleep well if there was no air conditional in South East Asia. It was too hot and humid to sleep. However, it was a good experience to stay there.
The owner was busy as a tour guide so his wife was taking care of the hostel.
When I looked back Vietnam with the picture I took, I could feel such a peaceful village atmosphere lot.
Short video of passing villages and towns
Such a peaceful place
The truck looked so unique. I always thought the hat guys wearing looked so cool.
After leaving Hanoi, there was a special drink, a sugar cane juice, I had every single day. It seems I didn't take any picture of a sugar cane juice. They used machine to squeeze sugar cane stick. The best way to eat was to mix with much ice. It refreshed a lot. In every small village or town, I found a shop having this machine. The price was only around 50 cents. I used to drink cola when it was hot. But happily, I found a better drink in Vietnam. I can say Vietnamese Sugar Cane juice was the best drink I've ever had.
I liked the Vietnamese food. But it was unlucky day that I got this food. It was really flat.
Sometimes I could feel more about that place after time passed. Vietnam was that kind of place. I could feel more about them on the picture I took. Even I thought "Did I pass this beautiful place for real?"
This uphill was the hardest part in Vietnam. It was so steep that I had to push my bicycle and I was covered with full of sweat.
I really loved Water buffalo. They looked so naive. When they raised chin up, then they looked so dumb, which I loved to watch. They usually had a wood bell on the neck and it made a very special wood sound when they moved.
The normal cow usually had an iron bell on their neck.
There was a shower that I stopped. Then I saw cute girls were having chat over the truck. Then they started laughing when I greeted.
They cycled with me for a while. I was so tired and hungry that I stopped and shared the cookie with them. After it, they went back and I kept moving to Laos.
I liked their flag cause there was the star. I wanted to take the picture with this typical Vietnamese scenery.
I was a bit nervous cause I didn't see people and cars much when I was reaching the border. I wondered the border closed.
Thankfully it was still opened. They were about to close that I had to hurry. I had many good memories in Vietnam. I thanked them for welcoming and treating me kindly. Some cyclists told me Northern people are more opened mind and welcome than Southern People. I didn't go to South Vietnam that I cannot compare it. It was time to leave now to Laos with good memories.
======================
Route
Days in Vietnam = 31 Days
Distance of cycling in Vietnam = 744 km (465 mi)
Expenditure in Vietnam= $647
($1=22,500 dong)