In Xian, I spent my last day of the year at a hostel as counting down with friends I just met at the hostel. After that, we went to a bar and club to enjoy the new year.
At the next day, we visited Terracotta Army together. In the past, I saw it in the documentary film that it was very impressive at that time. But in reality, I felt different. I didn't know that they put all terracotta army in one big place.
I went here on 1st of Jan where every Chinese visited for their holiday. There were too many people to enjoy actually. I had to squeeze into people to see. After it, I got a lesson; NEVER EVER VISIT TOURIST PLACE ON CHINESE HOLIDAY IN CHINA. Sometimes I checked travel website to get info of Chinese attractions and I could see foreigner's review like "I visited on weekend and there were too many Chinese to enjoy." China has a big population but cities and towns looked empty cause they have huge lands that they don't need to squeeze in one place to live. So I didn't feel their huge population while cycling. But when I visited Chinese attraction, then suddenly I could feel 1.3 billion populations. Here is the way to avoid Chinese Holiday while visiting China; If you type on the internet "Chinese Public Holiday (Country Name + Public Holiday)" you would see their national holiday. I recommend avoiding the weekend too.
On the way to the hostel, I could see a weird thing. I asked the seller what is made of and he told me it's fox's fur. Then I asked what's the other one? He said "That's wolf's fur"
Um……Interesting…..
We went to the night market.
There were so many people. But at this time, I really liked it cause the market looked so lively.
There were so many different street foods and I tried a few of them.
After we were back to the hostel, we spent time in the common area. We realized we could become a big group to rent a bus to go to the Mount Hua which was very far from Xian and we could share the cost.
I went to Mount Hua on my second day of the year with guys I met at the hostel. It is one of the top five popular mountains in China. We only rented a bus for a day that we had to take a cable car to go up unless I sleep there for a night and come back alone. Peaks were so beautiful. It was fun to hike with nice guys.
This was a really fun part.
Video of Hiking
The cable car was really pricey and I wanted to come down by walking. Although I didn't have enough time to catch our bus, I decided to try.
I walked fast as much as I could and then I arrived on the time.
It was very sunny and I could see blue sky well in the west north China most of the times. But since I cycled at Central China, the sky was not clear. Especially, Xian was really grey. I was confused that it was fog or smog. But Chinese from the hostel told me it was air pollution that she recommended me to buy a mask. I saw many foreigners in China were paranoid about air pollution. But I thought the cigarette they smoked was worse than air pollution for their own health. Anyway, I bought a mask as the advice, but I didn't wear often cause it was not comfortable. And I always took lots of air pollution from a car while cycling next to them that I didn't care it much. Although it was very cloudy all days, the night view in the city was pretty.
I heard from other cyclists that there was the road where foreigners were not allowed to enter in China. Finally, it was my turn to see it. I really didn't want to go back cause it would take extra two days. So I just kept cycling.
It was beautiful as cycling next to the lake, but the weather was not nice. The road was very narrow and the visibility was too bad.
One thing I was really scared of on the road was the car overtaking another car on two lanes just next to me on a narrow road without any shoulder. Especially when two big trucks did it, it was scarier than the summer horror movie.
I had to cross one mountain but when I went up more and more the weather became worse for cycling. I didn't eat any lunch cause I was afraid of being reported by local people to the police. They would know I am a foreigner if I tried to order food at the restaurant. So I just skipped lunch that I was hungry and exhausted. I couldn't understand why they were so many tucks on this narrow village road. Due to the sudden snow, cars moved slowly near the top.
When the road was covered by darkness, I came down from the mountain. When I tried to check in at a hotel, staffs called the police. Police officers told me I shouldn't be here. I explained that it was too dark to keep cycling. I promised I would leave early morning. They checked photos on my DSLR camera. Luckily they didn't know GoPro, a small action cam. On GoPro there was the picture of signboard "No foreigners", which could be the problem. They took the photo of me and my passport. Actually, time to time police came and took the photo of my passport and my face after I checked in hotels. But this time it was very serious that they warned me I should not stay. But thankfully they understood the situation and allowed me to sleep one night at the hotel. I was out of energy that I wanted to go out for dinner. But police officers said I must not go out. I just had instant cup noodle as the first meal in a whole day. At least it was not bad that I had a warm place to sleep for a night.
At the next morning, the police officers wanted to take me and my bicycle in their car and moved 60 km (37 mi) together. I really didn't like to take a car with my bicycle that I asked them to let me cycle. They followed me almost half an hour by car from the behind and then suddenly they said goodbye and disappeared.
After maybe one hour riding, I saw a weird thing. Many trucks were waiting at the side of the road endlessly. I was not sure why they were waiting to pass. For me, it was a lovely time that I could enjoy cycling without a big noise. Maybe local residences could enjoy their morning too.
One thing I was really surprised in China was there were too many trucks ever on the road. Even in this kind of small road, they were too many of them. I felt like 40% of cars was trucks and 60% was other cars. In other countries, 10%~30% would be trucks and 70%~90% would be other cars.
Chinese land was really huge as North America that I had to cycle a long distance many days. Sometimes I drank Redbull to get extra energy with Chinese snack. What I was holding on the picture was Chinese Redbull.
As a big land, every town and village had a different atmosphere. This village was really weird. They cut the pig just next to the road that I had to cross a bloody road literally. To eat a pig was fun but to see slaughtering pig was not fun at all.
Passing construction road..
I always felt the excitement on the top of the hill.
I had to cycle 640 km (397 mi) for four days with some reason. It meant I had to cycle until late at night. This time I couldn't find a good reasonable price hotel. I was too tired to complain about the hotel that my body was melted on the bed as soon as closing my eyes.
On the North West, I was allowed to cycle on the highway. But since Central China, I couldn't cycle on the highway anymore. But this time, I really didn't have the choice. The alternative road was really bad gravel steep covered by mud water flooding. I did wish "Please Police Officer, don't kick me out from here"
It was a really cold night and I was just the middle of the highway that I couldn't find any hotel. I asked people "Is there any place I can set up the tent?" One of the workers on a general store let me set up the tent at the corner. The tent looked a bit weird because I lost one of the tent poles in Kyrgyzstan.
I was guessing it is high-risk car accident road.
I arrived in Chengdu after midnight. There was one reason I cycled so hard last a few days.
There was the person, Trevor James, I wanted to meet in Chengdu. He was from Canada but lived in China for a few years. He said he would leave soon for the trip. So I cycled so hard to catch him. I had started to talk to him six months ago before the meeting. He had YouTube food channel. He left the comment on my Turkish Street Food Video and I asked him how to make YouTube channel bigger cause he had 70,000 subscribers at that time. When I met him in Chengdu, his channel grew so much that he had 440,000 subs. So he was kinda superstar for me. He was my hope as well cause I wanted to grow my Youtube channel bigger as him. (Now he has 2.3 million subs.)
Although I had spent two days with him and his girlfriend, it was really interesting meeting.
[I guess some of you guys know him. But if you don't know him yet, check his channel, Food Ranger ]
At our last night, we went to a hot pot meal place which I loved. All those floating things on the soup were crazy Sichuan peppers. It made my tongue numb that I felt weird usually. (But after I left China, I missed it. haha)
I even made the interview video with him.
He told me via message before I met him that I could stay as much as I want at his house while they were away from home. I was surprised how he could trust me even before meeting. He and his girlfriend were really lovely sweet friendly person. I stayed at their house for a month and updated posts on my blog and videos on youtube.
There was the biggest Chinese holiday coming, Lunar New Year. I didn't want to spend alone that I had sent messages via Warmshower.org, cyclist hosting website. And one of them invited me their family meal. A grandma was over 90 years old. I was sitting on the couch and when I saw her, I stood up fast to give her my seat. But then a friend told me it was okay I could sit on the couch and she could sit on the wood chair. I realized that their culture was different from my country, South Korea although we looked similar. In my country, to be polite is the most important and I must respect elder people. Maybe my country is more serious about treating elder people and Chinese culture is more relaxed.
They brought me the street market after a meal. I cannot remember what it was. It was rabbit head maybe. I tried all of these included eyes. What I remember was it was really spicy.
Unlike my expectation, it was really quiet at Lunar New Year Eve in China. I thought the street would be busy with fireworks. But there were no any people having traditional Chinese noise fireworks or flying lanterns in the city center. I heard Chinese government prohibited all of these to reduce the problem happened at the city center.
But the place I stayed was far from the city center that I could see people enjoying their small fireworks and flying lanterns.
Lunar New Year Video in China
In Chengdu, there was Giant Panda Sanctuaries. In the past, Panda was endangered. So Chinese Government built sanctuaries to protect them and it had been changed from "endangered" to "vulnerable" now. Actually, it was more surprising that Panda existed until now because they only had mating one time a year and too slow to run away from a predator.
When I saw Panda for the first time, I was dying cause it was too cute ever!!!!!!!! I was glad that they didn't sit on the cement. I don't like Zoo anymore cause it is just torturing wild animals. But Panda Sanctuaries was not bad. I was a bit worried when I saw one panda kept walking forward and backward. But other pandas looked okay.
Red Panda
It was very important to visit early morning to see pandas cause they went to sleep in the afternoon. The laziest animal, Panadas, survived thousands of years. So I, who is too lazy, shouldn't worry to survive on this earth.
I wanted to kidnap one panda to give Trevor as a gift. But he must be too busy to take care of it and maybe panda would be happy to stay with friends.
I ordered some electric items on online and it arrived before I left Chengdu.
(There was the saddest story ever with one of the gears. I dropped Seagate 2 TB later from the desk and it was broken. But at that time I moved all my videos there cause I was thinking to buy a new portable drive for only video backup. Then all my videos which I took over two years were gone. While I searched about how to fix, I saw most of the broken portable drives were from SEAGATE!!!!!!!!!!!!!! HELL SEAGATE!!!!!!!!!!! I had 1 TB portable hard drive, which was not a famous brand. I dropped several times but it was not broken. I tried to recover data as sending it to the best recover company in South Korea which recovered data from a sunken ship. But they couldn't recover my data from Seagate that I cried a lot. To do backup hundreds of GB videos was impossible while I kept moving. I was very frustrated for losing my hard work. To take the photo was very easy. But to take the video was a really hard job. I never ever recommend Seagate. If you have now, buy other portable drive and throw away Seagate. You can search about the broken portable drive and you will see most of them are from Seagate. Also, all of my friend who had broken portable hard drive used Seagate. I hope Seagate closes down or does something to fix their faulty items. )
There was a lantern festival that I went with the guy I had met through Warmshowers website.
I tried a pig brain for the first time. It was like chewing tofu that it melted on my mouth. But to be honest, I didn't like it that he ate the left.
I tried bbq frog as well for the first time. I did enjoy it so much. It was one of the best meat I've ever had. (I tried frog at the other country as stew, but the meat tasted not much. Maybe BBQ was the best way to cook the frog.)
I was cycling with Caucasian(White) guy from Africa for one and half day. Then I got free fruit and drink on the way. He asked me "Oh people are extremely kind. They give free fruit and drink often like this, right?". "No.. it is my first time to get free fruit after four months in China." "Maybe if you go to South, you will get much free fruit." But I was not welcomed this much again.
I've noticed when I hanged out with Caucasians that many local people really didn't care where foreigners are from or what they've done. The most important thing was skin color. If you are Caucasian, so welcome than other skin color people…. I didn't had this kind of experience in more than 70 countries that I got very embarrassing. Some Asian country I've visited has the same face as me, but they didn't treat differently between me and my Caucasian friend. So I was frustrated as realizing skin color matters more here. Also, I've never seen Chinese acting like this in foreigner countries that it was an unfamiliar thing to see.
I expected that I will make the best friends in China because everybody around the world treats me as Chinese. But sadly it was not like that. Two times I was kicked out from restaurants in China when I tried to use google translation to convert their menu into English. I wanted to explain them, but they were so rude that they just shouted at me without trying to listen. I was treated badly at the restaurant in Russia one time. But at least I was not kicked out. I was thinking if I were Caucasian, I would be still kicked out from those restaurants in China.
One time I was in the hostel and I met European girl cyclist. We had one Chinese girl in the same room and we talked to her only a little bit about where we have cycled so far. European told her she cycled in China several months and I told her I cycled the world several years. Then Chinese girl reaction was so big to European girl, not to me. When she checked out, she only asked selfie to European girl and ignored me sitting just next. I traveled to some countries which had exactly the same color and face like me, but local people didn't treat big differently that I was not used to having this kind of experience.
I met French cyclist and he told me he was an English teacher in China. He was told he had to say he was American cause the Academy owner asked it. He didn't have any career of teaching, but he got like $2,000 per month (I cannot remember the exact amount. But it was really good money in China something like this that I couldn't believe) and then he got a free house. I couldn't understand how come people believed he was American cause he had a very strong French accent. I heard at the other time, one European told me his friend spoke English really too bad but he taught English to kids in China because he was Caucasian.
It was really sad to hear and experience that skin color matters than any other things. My country would be similar to China that it is not just another country story actually. I hope racism and sexism are less and less in the future.
After Chengdu, I was moving to Southern China. It was getting warmer and there were more mountains. The city named Leshan had significant Buddha statue. But I decided to use a local cheap boat to look than paying an expensive entrance fee. In China, tourist attraction entrance fee is quite high like $15-$30. I've visited many of them in the north and now I wanted to save money.
I spent a beautiful day with the people I've met on a boat.
After dinner, we went to the park. People were dancing there, which was very common to see in China. I believed it was very healthy culture. The quote of "Dance Like Nobody's Watching" was made cause many people feel shy when they dance in front of people. But here in China, many people just dance. Most of them were middle age people though. However, there were young people in this park and they danced Salsa and other kinds of dances too. I tried to dance together but it was quite difficult to follow and it made me sweat. I felt better while dancing. Obviously, this was a really good culture! It doesn't matter there is nobody or someone watching you, just enjoy dancing! The most important thing is not about dance perfectly but about dance with full of joy.
There was the sign 'Aliens are not allowed to enter without permission.' I really didn't know why some roads were not allowed for us. There was no information about the road which is restricted. It meant sometimes cyclists had to face this kind of restricted area. I really didn't want to go back for a few days. I just went forward. Foreigners having different skin color might be stopped by the police officer and a police car would take them to another area.
Since I entered into a new province, Yunan, I had cycled in the mountains.
I put my tent for a night after getting permission from a local family.
At the next morning, one hill was waiting for me.
There were endless mountains.
It meant the sceneries were really beautiful. There were many small towns between. Unfortunately, sexual harassment happened in a small city. I was walking on the busy street. One guy looked a bit crazy in front me that he shouted at me. I tried to walk around to avoid him then suddenly this guy pinched my breast. I was so annoyed that I spitted at him. Usually, when it happened, I reported to the police. But he was the sick guy that it was meaningless to report him. What a bad luck. I felt too upset to do anything at that night. I wished someone was next to me to give hug.. Through whatsapp, I just talked to my friend, Jamy whom I met in Central Asia. She was a solo female cyclist, so she could understand me better than anyone. At the next day, I could feel a bit better.
The more I went to South, the closer spring came to me.
This was my favorite picture. The reason was there were beautiful white flowers behind local women having chat. Such a charming village.
Do I look similar to Statue? I had passed so many villages. One interesting thing on villages was that houses let poop and pee flow outside through holes on the wall. For example, there was a hole on the wall from a toilet. When people went to the toilet, result things were going out from the hole and it just flowed out to sewage without any cover next to the street. Occasionally, it had very strong smells when I passed this kind of area. I wished there was no hard rain. If there was heavy rain, it would be all mixed and flowed on the street I have to cycle through.
Although there were lots of mountains, China made road well that it was not steep. So, I didn't need to push my bicycle.
I set up my tent at the local people's yard and I was invited to their dinner. I was enjoying to spend time together cause I could learn about their culture.
In the early morning, people were busy in the village.
Dogs were only cute when they acted like a pet. I saw a few times dog eating dog while cycling the world. Then it looked very scary animal.
I usually made the picture when I reached the top cause I felt so good with a full heart and joy. It was a quite cold day and I cycled between mountains.
There were so many different ethnics living together in China. So when I entered into a new area, suddenly atmosphere was changed too. In this town, it was full of yellow.
Lady wore special their traditional hat.
Granmas made a small fire to stay warm with her neighbor.
I felt so lucky when I passed this village. It looked really traditional place. There was their own letter written on signboard which made look very special. When I watched media, they talked about how Chinese government treats minor ethnic badly. So it was really interesting to see this kind of village, which the media didn't talk about.
It was the most unique village so far I've visited in China on my trip.
It was quite cold and rainy. Thankfully local people let me set up my tent at their empty building for a night.
At the next morning, they asked me it was not cold to sleep. They made the fire, which actually cooked pig hung on the ceiling like jerk meat. There was fat oil dropping and it made a beautiful sound when it was burning on the fire
They cut some of the meat from them and cooked the soup which they shared as the breakfast. They showed me the picture of their traditional clothes which they had at the festival.
After breakfast, I had to cross one big mountain.
As going higher, the road was covered with more snow. It was always so good feeling to look back all the curves I had passed.
When I was near the top, the road condition became the worst. Some local people rented tire chains to cars and ran to get back when the car reached a safe place. There was no chain renting for me that I pushed my bicycle slowly and carefully.
Unlikely my worries, the worst road didn't last long. After passing dangerous area, the road was clear. But the view was not clear at all with fog.
Finally, when I was on the top, all looked good except strong wind. There was not enough time to enjoy beautiful view cause it was so cold that I had to hurry. And then there was very long downhill and all snow was gone on the road.
I did like to stay at the hostel in China cause language barrier was too high in the town and city. The hostel was the only place I could communicate with people easily. Whenever I went to the hostel, there was always people speaking some English. This hostel was a very special place. They ate food usually together and they invited me as well. They told me it was a special day that they only cooked a vegetable.
At the next day, I found a very special thing. They bought lots of fish from the market. I couldn't remember how many big yellow baskets with full of fish they bought.
And then they went to the lake to release the fish into the water. Baskets with full of fish were very heavy that many people had to help to carry and let fish free. They said it was a religious ceremony. I was not sure it would be okay for the ecosystem. It was a really confusing day for me. I thought a lot about humanity.
We looked around the rock market and they wore a traditional hat which looked very unique.
There was an unbelievable record I had. What the hell? How come 50 c (122f)? I thought my new bicycle computer was not accurate. But actually, I've never seen this number later again even in extremely hot place in South East Asia. As reaching the south, scenery and temperature were changed.
I had visited a beautiful city, Jianshui. I really liked this city. It had many traditional Chinese houses which I saw on the TV.
And FINALLY!!!! I watched the dragon dance on the street. When I thought of China, usually I imagined about the dragon dance. This was a really shocking thing that I had never seen the dragon dance while cycling in China over five months before. It seemed I could see it only in some place having this culture.
There was another thing I realized that to cook weird insects like cockroach was for only tourists in Beijing. I had never seen it on my way. (So don't try to eat those tourist insect food, but eat delicious local food when you travel to China!)
Usually what local people selling on the street were fried food, fruit, and vegetable.
This city was known for making a teapot. I really wanted to buy the teapot as a gift for a family and friends. But I was afraid it would be broken while delivering oversea. This city was also popular as tea itself. At the hostel, they had so many items to make a tea on the table which I didn't know how to use. One of Chinese guests made a tea and it was the most beautiful tea ceremony in my life. She said she was learning about tea ceremony that she was shy when I praised her. I remembered the most beautiful coffee ceremony in Ethiopia. When Ethiopian made the coffee, it was so amazing ever. And it was kinda similar beauty when I saw Chinese girl pour the tea on cups.
To make a tofu was another famous thing in the city. First of all, they got water from the well. And then they made a tofu with it. Anyone can visit there and watch how to make.
The most interesting thing was that a restaurant worker cooked tofu on the grill for customer and strangers sit together and picked tofu with chopsticks. The worker will count how many tofu they ate as putting corns or small rocks on the table. There were soft tofu and hard tofu. I really liked soft one cause it was similar texture as cheese.
I did love so much hotpot. This was more like Korean bbq to me cause people always eat together like social or family food. But sometimes I found a restaurant like conveyor-belt sushi and I have my own pot with an electric heater. It was so much fun to pick vegetable and meat from conveyor belt.
I was almost at the end of China border. But the last part was quite challenging cause it was endless up and down and the temperature was more like tropical that I could see even bananas just next to the road.
I wanted to see the rice terrace. But it was the top of the mountain and actually I had to come back on the same road. I could leave my bicycle at the hostel in the previous city and just take the bus. But I wanted to come and go with my bicycle. When I was near my destination, I could see beautiful local people with their traditional clothes.
It was really difficult uphill with the heat. I had to cycle from 200 m (656 ft) to 1,900m (6,233 ft). But I could do it in one day. When I reached 60,000 km (37,282 mi) of the total cycling distance on the way, I was so happy.
I arrived at the hostel in late night. I was exhausted that I fell asleep deeply. At the next day, walking around, I was surprised that the village was very unique and beautiful.
It was a really peaceful village with local people wearing traditional clothes, Asian buffalo, pig, chicken, kids walking on a small narrow road. The weather was cooler than other places around in the night because of high altitude. I would go to South East Asia soon and I might miss this fresh air. So I breathed to take the cool air as much as I can.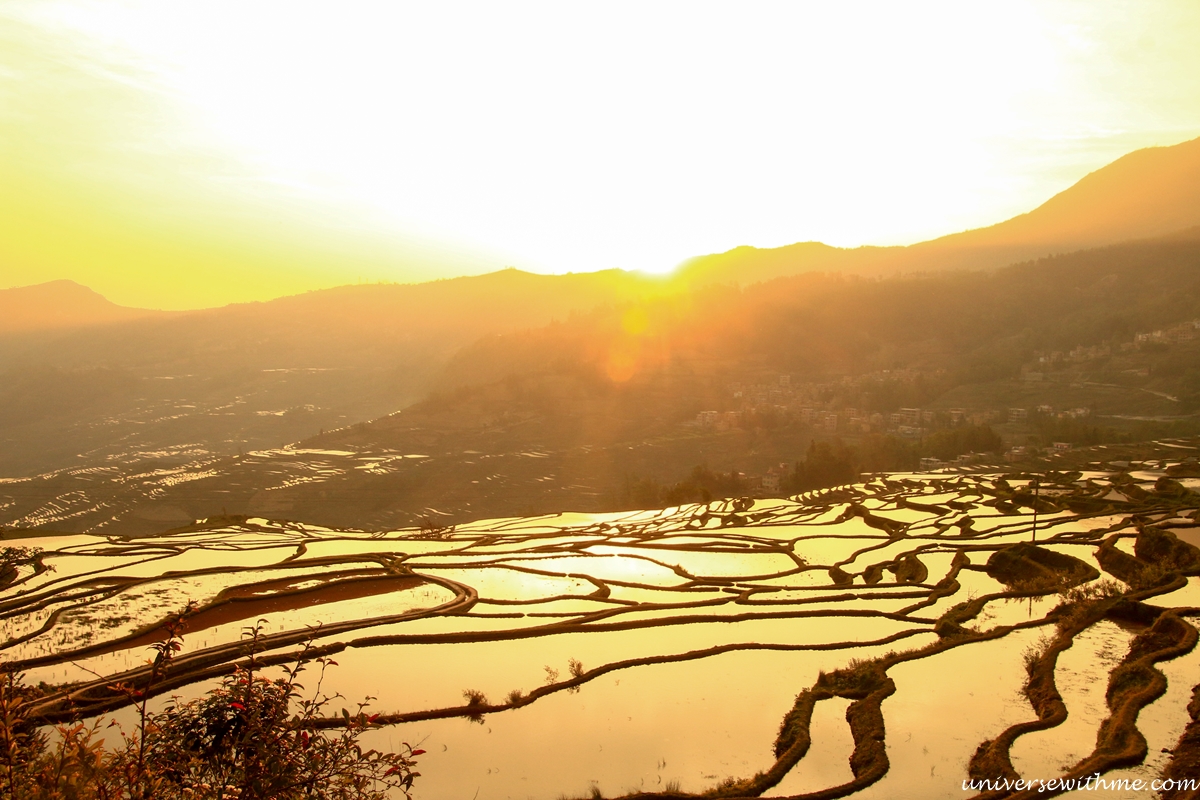 The best moment of the village was a rice terrace with sun rising.
My cycling trip in China was finished after six months. When I was in Central Asia before heading to China, I was not sure I could cross in China only by my bike. All of the cyclists I've met took a bus or train in China except Jamy. So I was not sure I could make it.
And I've realized at the border before leaving China, I crossed all the way without any transportation cause I moved slowly with my pace.
It was really fun to see so many different ethnics and their cultures. Chinese foods were very diverse and tasty that I enjoyed a lot. Although there was a culture barrier sometimes I couldn't understand, it was really worth to visit and learn.
I really cannot stay well with the heat, so I had been worried about going to the next country for the weather. But it cannot stop me exploring. I was so excited to step into the new world, SOUTH EAST ASIA!!!!!!!!!
=======================
Route
Days in China = 171 Days
Distance of cycling in China = 6,468 km (4,042 mi)
Expenditure in China = 4,192 $
($1=6.78 Yuan )